Susan Gudenkauf: Driving Success through Authentic Leadership
America's Top 10 Women Of Distinction in 2023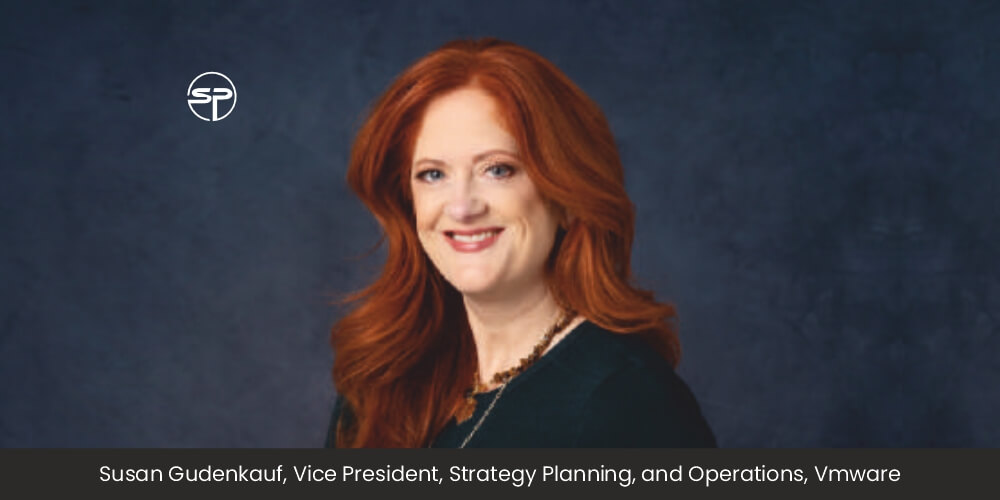 Susan Gudenkauf, Vice President, Strategy, Planning, and Operations at VMware has been in the technology world for decades, but her journey to get there has been an adventure.
Susan grew up the daughter of an FBI agent which created a unique childhood for her. Susan's family moved 9 times before she turned 9 years old, and the changing of schools, saying goodbye to friends, and making new ones was an emotional rollercoaster ride. This time in her life was very influential and taught her to be adaptable and resilient in the face of challenges and change, shaping her life and ultimately her career. Susan has always been ambitious and driven, to the point she knew what she wanted to do with her life from a very young age. At age 14, she made the decision to go to Moorhead State University and major in International Business, never once deviating from her plan.
After graduating with a Bachelor of Science degree she moved to the Twin Cities in Minnesota and applied to six Fortune 500 companies which met the criteria she wanted. Ultimately, she landed a role at West Publishing, which was later acquired by Thomson Reuters.
Unexpected Start in Technology
Susan's first position at West Publishing was as a Customer Service Representative. The role seemed like a great entry-level position within a company where she could build a lengthy career. She anticipated answering phone calls and fielding questions about customer accounts such as payment information, directing questions to the appropriate places to be answered, and being an initial point of contact for the company. As it turned out, the role was not what she, or the other 15 people in new hire class, expected; it was technical support, and no one in the group had experience with technology. Luckily, West Publishing provided a four-week onboarding bootcamp with the promise of another position within the company if this role wasn't a good fit. Luckily for Susan, something clicked for her during the boot camp and she found a passion she didn't know she had. She did so well she got released from the bootcamp a week early to join the other representatives on customer calls.
Susan really enjoyed working with customers and learning the technology, even going as far as taking her computer apart when she was home so she could learn even more. She had been doing well in her role, winning numerous awards, and getting customer recommendation letters; she was settling in for a long career. However, only six months into her role she was in a near-fatal car accident where the car she was riding in was sandwiched between two semi-trucks at 70 miles per hour. Her whole life fell apart in an instant.
Having numerous injuries, Susan found herself in and out of hospitals and doctors' offices, and unable to work. Despite several failed attempts at coming back for a few hours a day, she couldn't return to full-time employment until 18 months later.
She sustained a persistent traumatic brain injury (TBI), severe clinical depression, and post-traumatic stress disorder (PTSD) in addition to many neck and back injuries. Despite having healed from the most severe wounds, Susan continues to experience constant pain, including a migraine that she has had every day since the accident, 27 and a half years ago.
Susan needed to find a sense of purpose in her life again and desperately wanted to get back to work. Against her doctors' wishes, Susan enrolled in a Novell Netware course to continue building her tech skills in anticipation of returning to work. She quickly earned her Certified Novell Administrator (CNA) certification and found a new job in consulting. Ironically, the company who hired her needed someone with Microsoft consulting experience, not the Novell experience she just received. Fortunately, the company sent Susan to a few Microsoft courses, and she started down the path to becoming a Microsoft Certified Systems Engineer (MCSE). Achieving this would be a lofty goal for her given her pain level, brain injury and memory issues, which were so bad after the accident that she couldn't even finish a sentence because she didn't remember how it started.
However, with a great deal of perseverance and a bit of humility, she was able to achieve her Microsoft Certified Systems Engineer (MCSE) certification.
Over the course of the next five years Susan continued building her technical skills and ended up with a Field Technical Solution Engineer role at IBM. This was her first foray into the hardware side of technology, and she learned quickly by doing many server, networking and storage installations, eventually becoming IBM's clustering subject matter expert (SME) for the central region of the United States.
When Mrs. Gudenkauf first learned about VMware, she was still with IBM, but left shortly after to work for a partner, where she became the sole Intel-based engineer at the company. She started learning more about VMware and installed VMware Workstation which allowed her to run both Windows and Linux on the same machine. This was game-changing! She was sent to VMware training to ramp up on virtualization technology quickly as she was doing the first of many customer installations in a few weeks. Because of Susan's brain injury and memory issues she had to develop a new system to help her remember things (like the steps necessary to install VMware ESX Server). In addition to taking the week-long class, she also studied the entire manual cover-to-cover, with highlighter and pen in hand, taking copious notes which, she turned into cheat sheets for performing virtualization installations. Working with VMware solutions ended up being the spark that ignited the next 20 years of her career. Susan was excelling in her role and she enjoyed the work, so when VMware approached her about a Systems Engineer (SE) role she was reluctant to say the least.
VMware was a relatively unknown startup at the time with fewer than 200 employees and that seemed risky. Ultimately, she decided to venture out of her comfort zone and take a chance on what seemed to be a cool job with a fun company and became one of the first SEs at VMware. Since she was the only SE in the central region of the country, she was given a massive territory of 6 states and 3 Canadian provinces to cover by herself. She was also the first, and only, female SE VMware had hired at that time, and she felt like she needed to work three times as hard to prove herself.
She adds, "Being a part of that initial group of SEs was life changing for me. The other SEs were not only incredibly supportive, but they were also protective and became like brothers to me. In fact, many of us are lifelong friends and, in addition to a reunion every July, we often take amazing vacations together."
Ascending the Career Ladder
Over the next 12 years, Susan held numerous positions at VMware. After starting as a SE, she later shifted to help build out the Technical Account Manager (TAM) program where she was able to develop deeper relationships as the trusted advisor for her customers. One of the highlights of this part of her career was being selected for VMware's inaugural High Potential (HiPo) executive program. This was a huge honor for her as she was the only person to be selected out of the 1,000- person organization she was in at the time. As a part of the program, she received an executive mentor, who she worked closely with for the next six months. During that time, they discussed everything from her personal life to her work objectives. One of the best pieces of advice she ever got was from her mentor during this time. He said you don't always need to move up the ladder, it is sometimes preferable to move laterally, or even go back a step or two, for better things to happen in the future.
Susan describes, "A couple of years later, I was on a different team and up for a promotion, but with it came more travel, more hours, and more stress. I thought about what my mentor told me, and I turned it down because my kids were really young at the time, and I couldn't bear the thought of missing so much of their lives just to have a better title and a little more money."
Susan always said "family first" but she needed to show that through action rather than merely saying the words. She eventually did accept a promotion or two, but they were more aligned with her core values. Susan eventually ended up as the Chief of Staff to VMware's Chief Technology Officer (CTO) where she also had responsibility to oversee the innovation programs within R&D. While this was an awesome experience for her, after a few years she felt drawn to try something new again, so she left VMware and went to work for another start-up where she gained valuable new SaaS (Software-as-a Service) experience through cloud computing. She would have never thought after three years of working at another company the new experience she gained was exactly what VMware needed for their newly formed cloud organization. Susan returned to the company she had already spent 12 years with and took on responsibility to help drive technical strategy for the cloud sales organization.
Leadership
After a couple of years, Susan took on a leadership role overseeing VMware's worldwide Cloud Customer Success team. Creating a cohesive team remotely is already challenging when you have members located all over the world, with numerous time zones, cultures, and languages but it is exceedingly difficult when a global pandemic hits at the same time. Luckily, Susan has always worked remotely, so she didn't miss a beat while the rest of the world learned to video conference for every meeting.
In Susan's current role as the Vice President of Strategy, Planning & Operations for the Cloud Infrastructure Business Group, she spends her days bringing structure and efficiency to a multi- billion-dollar business and setting a clear vision for her new team. One of the first things she does when joining a new team is to get to know the person behind the role. She wants to learn what motivates people and find out who they are as a person, in addition to what they might like, or not like, about the type of work they are doing. In many cases, learning those things has helped Susan change the structure of an organization to tailor it to each person's strength which ultimately creates a more efficient and productive team.
She also likes to have fun. It's important to remember everyone puts in a lot of effort and frequently works long hours, but we also need to remember to enjoy ourselves as much as possible while still achieving the company's objectives. For instance, her current team gathers each month for an optional virtual water-cooler hour where they play games and have a fun theme. Being social and not talking about work, in Susan's opinion, is a great way to learn more about individuals and to laugh as a team. Teams who laugh together, stay together.
Inspiring Others
While Susan is passionate about optimizing and scaling businesses and creating as much simplicity as possible along the way, what gives her more fulfilment is mentoring others as they develop and achieve the levels of success that are important to them Few things give her greater pleasure than meaningfully working with an individual to help them achieve their goals. More recently though, she started openly sharing her journey with the physical and mental challenges she has gone through since her car accident and people have responded more enthusiastically than she anticipated. People relate to authenticity. They like to know people aren't perfect and showing vulnerability brings trust to the relationship. Susan believes this is the key component to her success…authenticity.
Being vulnerable was something Susan found extremely difficult to display at work early in her career. She used to try to hide the fact that she had PTSD, depression, and a brain injury. She felt like she already had to work three times as hard as her male counterparts, so she didn't want to give people another reason to doubt her capabilities. Then, one day, she simply decided she didn't care if people criticized her, she was going to be genuine and stop hiding the "lesser" parts of who she was. It turns out, people don't want to criticize parts of you, they want to embrace all of you. As an example, the first time she told her story in front of a group at a work offsite, people started crying. Since then she shares her story on a regular basis and every time she does, more people reach out afterwards and tell her the story they were afraid to share. Her authenticity is inspiring to others.
The response from people has been really magical and has been such a pivotal part of her life that she thinks she will continue finding a platform to help other people talk about mental health even after her tech career eventually ends.