Nicolas Chretien: A Proficient Executive Who Establishes the Long Term Vision and Ensures Success
Canada's Most Influential Business Leaders of the Year, 2023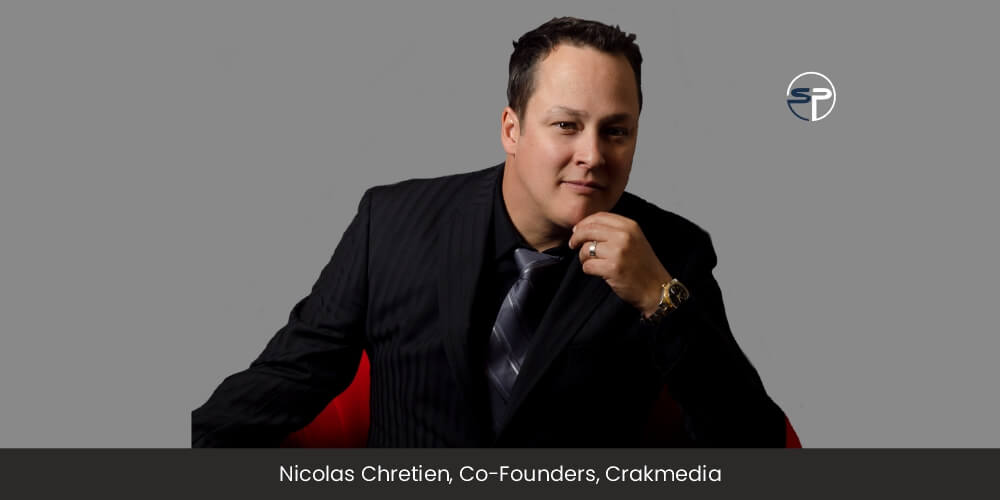 The main responsibility of a leader is to empower and enable a team to achieve both group and individual objectives. Although it may include delegation, instruction, and training, the desire to serve is at the core of all of it. Effective leaders adhere to servant leadership's team-building ideas. These ideas range from complex personal development plans to straightforward knowledge of how your team members respond to rewards. Servant leadership is about enabling others to succeed rather than ceding control.
Nicolas Chrétien, one of the co-founders of Crakmedia network and head of business development. There are two principles he tries to focus on as CEO: transparency and innovation. He says, "To ensure that these ideas are shared by my entire team, establishing and sharing priorities that highlight our strengths and push our team to new limits is pivotal." He further shares that Crakmedia Network's quarterly targets, which are linked through each department, allow each team to remain aligned with those priorities and to stay in the loop through each decision we make as a company.
Nicolas sees himself as very committed and hands-on within the organization as its chief. He wants and tries to remain available to collaborate with his team on every project, big or small, and open and honest communication with his staff. He thinks that in order to lead change, an individual must understand the importance of his or her team. He asserts, "Collecting feedback from your team is just as important in establishing those priorities as fixing them yourself. I'm not all-knowing, and I love getting my team's opinions and ideas before setting our next goals and targets." Nicolas constantly stays up to date with team decisions and strives to remain involved in each step of the process.
The Inception Story
Nicolas used to be a night owl, and he tried his hand at bar management and event promotion. He says, "I've always enjoyed trying different things and exploring various paths." Nicolas even spent some time working for the federal government before deciding it wasn't for him. So, after attending a webmaster class, learning more about administration and advertising, and creating his first ads and website, he was off and running in the world of online technology.
Nicolas and two friends decided to start a website design business. The two had a blast and were driven to succeed even though there was a lot of trial and error. They had a little more latitude to investigate alternative contracts and learn what digital marketing and web development had to offer because there wasn't much competition in Quebec at the time.
In 2004, Nicolas and his friend got the idea to create a platform to share funny content on the internet. That is what inspired them to establish Crakmedia."It all began with the desire to create a web site to share funny photos and videos and introduce the notion of user interaction through voting. When we added advertisements to it, we quickly realized it was an interesting revenue stream. Little by little, we expanded to new limits," says Nicolas.
Two years later, the duo invested in creating a web marketing platform, and Crakmedia Network officially launched. Nicolas shares that the target has always been to become a digital marketing leader across the world.
Joining Entrepreneurship League
As Nicolas shares, he didn't plan on becoming an entrepreneur, but once he got a taste of it, he realized he wanted to become his own boss. He shares, "I am drawn to the freedom and independence that come with owning your own company." Nicolas also loves working closely with people he knows are experts at what they do, and being CEO allows him to build a team he truly believes in and has been close with for years now. Nicolas adds, "It gives me a chance to work with people I trust and who I have fun working with."
The Company
The team at Crakmedia offers a variety of services in relation to affiliate, influencer, and digital marketing. The group specializes in multichannel marketing initiatives, web design and development, SEO, and media buying. The business is always looking for ways to use data science, web analytics, and other types of reporting more effectively. A new influencer monetization tool that enables users to connect with the top brands for their audience through a single, user-friendly, full-service app is just one example of the tireless work the team puts into developing innovative strategies to increase accessibility and performance in the world of digital and influencer marketing.
The Changing Social Media Landscape
The rise in affiliate and influencer marketing is undeniable within the world of digital advertising. Influencers, social media platforms, and monetized web pages have disrupted the way we understood marketing in the past. More than ever, marketing isn't about selling a product to everyone; it's all about targeting the perfect audience with products and services they will genuinely enjoy. Authenticity is at the forefront of marketing, and it's more crucial than ever to put the human touch first in marketing strategies.
With the rise of the content creator economy, marketing is changing faster than before. It's critical to think on your feet, keep an eye on industry trends, and adapt in order to innovate before anyone else. It might feel like everything we knew about marketing is outdated, but that's something we welcome with open arms. When you're focused on the future, you're already two steps ahead.
Message for Young Entrepreneurs
According to Nicolas, with today's generation of young entrepreneurs and industry professionals, challenges and growth opportunities are crucial. It's more than just complimentary breakfast or nice offices. Nicolas advises, "Make sure you stay ahead of the curve on the current job market, take the time to listen to your team's ideas, and allow them the space to build something with their unique skills and talents. Giving them the time and room to grow and shine can only lead to amazing results."
View on Living Balanced Life
"When the wind of change blows, some build walls, others build windmills." This Chinese proverb has always stuck with Nicolas because it truly resonates with his approach to life. Some fear change; Nicolas welcomes it with open arms. He says, "In this industry, you can only win by embracing change and even fostering change yourself."
Nicolas shares that innovation is at the heart of each of Crakmedia's decisions. He asserts, "No matter what challenges we face, we always see them as growth opportunities. Even when the pandemic hit, we saw it as a chance to push ourselves to market our products and offers in a different light. And we couldn't have hit a better home run."
More Growth for the Upcoming Years
While sharing his view for the future, Nicolas states, "It's hard to predict where we will see ourselves in an industry that evolves and grows so quickly." The team at Crakmedia Network constantly strives to develop and adapt in order to be at the forefront of market trends and technological advancements. The team is continuously seeking to advance through web analytics, machine learning, data science, and reporting in the area of influencer marketing. For the business, data is essential to ensuring that digital and affiliate marketing are as accessible as possible for both marketers and advertisers. Nicolas explains that the Crakmedia Network team is driven by expansion and always has its sights set on the future.
Website: www.crakmedia.com