Markus Mensch: A Visionary CEO Transforming Businesses Without Breaking the Bank
Most Influential Business Leaders to Watch in, 2023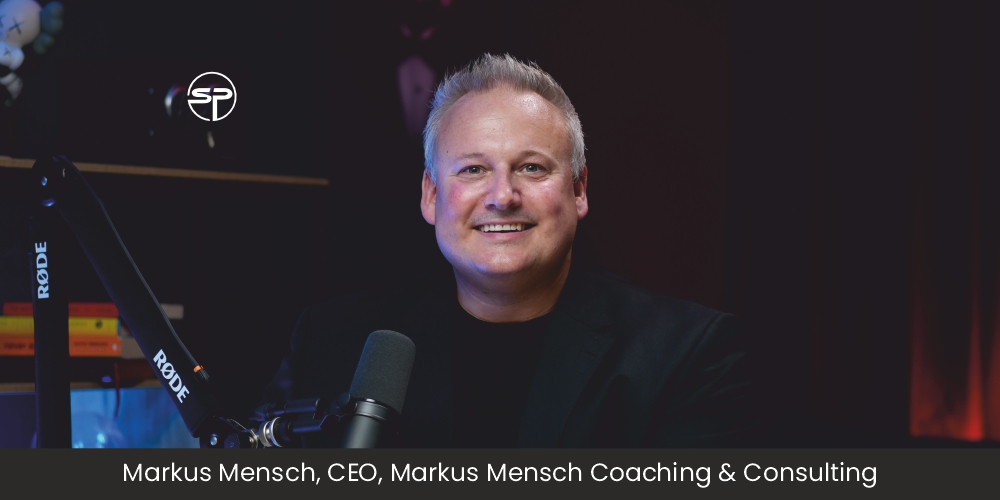 The dynamic CEO of Markus Mensch Coaching & Consulting, Markus Mensch stands out as a shining example of strategic brilliance. Renowned for his penchant for winning accolades both for himself and his clients, Mensch's journey is a testament to his remarkable marketing acumen. Since 2007, he has been a guiding light for self-employed individuals and entrepreneurs, ingeniously aiding them in attracting new customers sans the need for hefty agency fees or extravagant advertising campaigns.
At the heart of his leadership role, Markus shoulders the weight of steering the ship toward strategic victory. His responsibility encompasses making astute choices, leading and inspiring teams, evaluating novel concepts, and maintaining a vigilant watch on market trends to bring the company's visions to life. With an innate understanding of his team's strengths and weaknesses, as well as those of competitors, he deftly navigates the business landscape, charting courses for growth and prosperity.
Multifaceted Approach to Marketing Excellence
Since 2007, the Markus Mensch Coaching & Consulting has been seamlessly integrating marketing, public relations, networking, social media, and event planning into its operations. This valuable knowledge is extended to clients through meticulously designed coaching and mentoring programs. The results of this marketing coaching equip clients with the skills to independently apply their newfound marketing acumen throughout their professional journey. This self-sufficiency effectively eliminates the need for expensive agencies or consultants, rendering the Markus Mensch Coaching & Consulting's mentoring initiative exceptionally sustainable and impactful over the long term. Furthermore, this approach proves to be significantly more cost-effective compared to conventional advertising strategies.
Markus Mensch Coaching & Consulting boasts a diverse clientele hailing from various sectors, such as fashion, gastronomy, hospitality, retail, service provision, as well as associations, trade shows, and medical professionals. Regardless of whether it's a burgeoning startup or a well-established corporation, the agency stands as the go-to partner for all external communication needs.
The collective efforts of the agency's team have resulted in the successful optimization of visibility and customer attraction for countless entrepreneurs, startups, and self-employed individuals. The cornerstone of their efforts lies in their coaching services, where clients undergo transformational learning to effortlessly enhance their visibility.
Priorities, Diversity, and Effective Communication
People are drawn by visions, a truth applicable to both customers and employees, particularly within the emerging generation. The shift in priorities is evident, with monetary gain no longer holding the same weight as before. The youth cohort pursues distinct objectives, prioritizing the quest for significance in their professional endeavors and a chance to contribute to a larger purpose.
During the process of assembling his team, Markus takes great care to ensure that each member brings a unique set of skills to the table. Avoiding a critical pitfall as an entrepreneur, he refrains from enlisting employees or business partners who possess redundant abilities. This approach, he believes, fails to usher in fresh perspectives. The prospect of perpetually replicating one's own competencies leads to a stagnating loop. Instead, Markus champions the concept of embracing individuals who complement his skill set by offering contrasting capabilities. This dynamic interplay stands as the linchpin for fostering growth.
The essential foundation underpinning effective collaboration among all team members is characterized by open and lucid communication. This pivotal conduit is the bedrock upon which reactions and responsiveness are built. Communication functions as the vital linkage uniting the team's diverse skill sets with the overarching vision and the objectives ardently pursued by their customers. This seamless interconnection proves indispensable for attaining the desired goals.
Embracing Transformation
Six years ago, a pivotal decision was made by Markus Mensch Coaching & Consulting —a decision that involved a complete transition to a 100 percent remote work setup, coupled with a comprehensive restructuring of their business model. This bold move towards digital operations not only fostered heightened flexibility but also served as the bedrock for venturing into the realm of international marketing.
Markus, at the helm of the agency, asserts that this transition has had a transformative impact on the productivity and innovation of the Markus Mensch Coaching & Consulting team. Recognizing that creativity is not a constant state and that each individual operates on their unique rhythm, this shift has yielded a remarkable improvement in the quality of ideas generated.
In a distinctively unconventional manner, Markus Mensch Coaching & Consulting has carved its path. Rather than adhering to the customary trajectory  of establishing a company blog, they chose an alternative course—the inception of their own magazine. This initiative materialized as the MDL Magazin, a dynamic publication that seamlessly marries lifestyle and business content. Catering to entrepreneurs with a penchant for personal development, a keen interest in business news, and an affinity for luxurious living, MDL Magazin (www.mdl-magazin.de) stands as a testament to Markus Mensch Coaching & Consulting's unique approach. The magazine is perhaps most renowned for hosting the MDL AWARD, a prestigious accolade that recognizes accomplished entrepreneurs with captivating narratives.
The MDL AWARD occupies a revered status within the German-speaking region, standing as one of the most coveted honors. Notably, only verified companies meet the criteria for nomination, adding a layer of authenticity to the award's prestige.
The Guiding Principles and Collective Power
Markus Mensch Coaching & Consulting adheres to a set of transparent principles and time-tested strategies that underpin their operations. The agency's team members are afforded the autonomy to achieve their designated sub-goals using their own discretion. Three pivotal elements stand as cornerstones for the team's triumph:
Harmonious Connections
Blind Trust
Individual Responsibility with Clear Guidelines
Underpinning their daily efforts is the aspiration to transition from a state of "Good to Grow." While individual achievements are notable, the true potential is unlocked when the team, united under a distinct brand, harnesses their collective strength. Embodying a diverse range of specialized skills, their harmonious synergy possesses the capacity to surmount significant challenges.
The Markus Mensch Coaching & Consulting stands as an indomitable collective force. Bound by a shared purpose, they strive to enhance both their lives and those of their clientele, ushering them towards an elevated plane of existence. The journey toward this objective is a thrilling one, characterized by limitless possibilities and a palpable sense of excitement.
Reshaping Industries
Corona has transformed the industry. Lockdowns forced many companies to adopt digital work practices. People have become accustomed to Zoom calls and other digital tools, and this trend continues.
The Markus Mensch Coaching & Consulting embraced digitalization six years ago. It operates 100 percent remotely, making us incredibly flexible.  Artificial Intelligence (AI) is heralding the next fundamental change, and the agency is at the forefront here too. "We are already working on methods to harness the enormous potential of AI for effective marketing. It can automate processes and provide significant support in finding creative solutions, offering a realm of imagination," says Markus.
German businesses, in particular, can benefit from this to remain future-proof. The German economy is experiencing stagnation due to rising energy prices and inflation. As entrepreneurs in Germany, some political decisions are challenging to comprehend. Markus asserts, "With our second office in Dubai, we offer German business owners an alternative on how they can realign their businesses for the future."
Entrepreneurial Paradigm
From the perspective of an entrepreneur, the United Arab Emirates (UAE) emerges as a model for effective strategies. With a burgeoning economy and streamlined processes, the UAE is making significant strides. Dubai, in particular, serves as a magnet for capital, individuals, and innovative concepts from around the globe. The Markus Mensch Coaching & Consulting has already established substantial connections in this dynamic setting and is consistently broadening its network, aiming to provide German-speaking enterprises with a gateway to flourish in this thriving environment.
Simultaneously, the agency is embarking on an international expansion, seeking to offer both German and English-speaking clients access to an exponentially larger audience and a realm of remarkable prospects. This pursuit is realized through their pioneering "Social Media Revolution ®" training program, designed to empower participants to synchronize their marketing efforts on a global scale, thereby unlocking new markets.
As for the trajectory of the world a decade hence, uncertainty prevails. Acknowledging this reality, the agency remains steadfast in its curiosity-driven approach, fostering a culture of continuous evolution, day by day.
Exemplars of Vision and Achievement
Markus' mentor, Jürgen Höller, the networking expert Ivan Meißner, and Mohammad bin Rashid Al Maktoum, the ruler of Dubai and Prime Minister of the United Arab Emirates, stand as exemplars of individuals who authentically manifest their visions. Jürgen Höller, despite his upbringing in modest circumstances, has forged a path of remarkable achievement. Ivan Meißner's legacy encompasses the establishment of the world's largest business network. In the case of Mohammad bin Rashid Al Maktoum, his leadership has galvanized countless individuals to construct the sprawling metropolis of Dubai from the ground up and to continually foster its expansion.
"Ultimately, at the end of our lives, we are the sum of our decisions. If I truly want something, I will find ways to achieve it. Significant decisions are brave because they are sometimes associated with fear of not succeeding. But nothing is as detrimental as the consequence of not making a decision. No success is an intention," says Markus.
Unleashing Curiosity and Global Expansion
Markus displays a strong sense of curiosity, driving the Markus Mensch Coaching & Consulting's team to consistently explore novel concepts aimed at enhancing their marketing strategies. When a particular approach proves effective, they promptly disseminate these insights to their valued clients.
Historically, Markus Mensch Coaching & Consulting has concentrated its efforts on catering to the needs of its German clientele. However, a new chapter has unfolded as the agency sets its sights on the broader international, English-speaking market. This year, in 2023, a significant milestone was reached with the inauguration of a second office in Dubai, complementing their existing headquarters in Regensburg. This expansion has been accompanied by a growth in team size and a strategic embrace of cutting-edge technologies, including Artificial Intelligence. These technological advancements empower the agency to seamlessly execute strategies that are perpetually refined, thereby aiding entrepreneurs in the generation of increased revenue.
While Markus remains focused on the immediate goals of the Markus Mensch Coaching & Consulting, his aspirations extend to the horizon. His overarching vision entails establishing a foundation whose proceeds would be dedicated to nurturing the aspirations of young individuals, providing them with the means to manifest their visionary endeavors.
Please visit: