Mona Minton: A Trailblazer in Mental and Behavioral Health Advocacy
The 10 Most Admired Businesswomen to Watch in 2023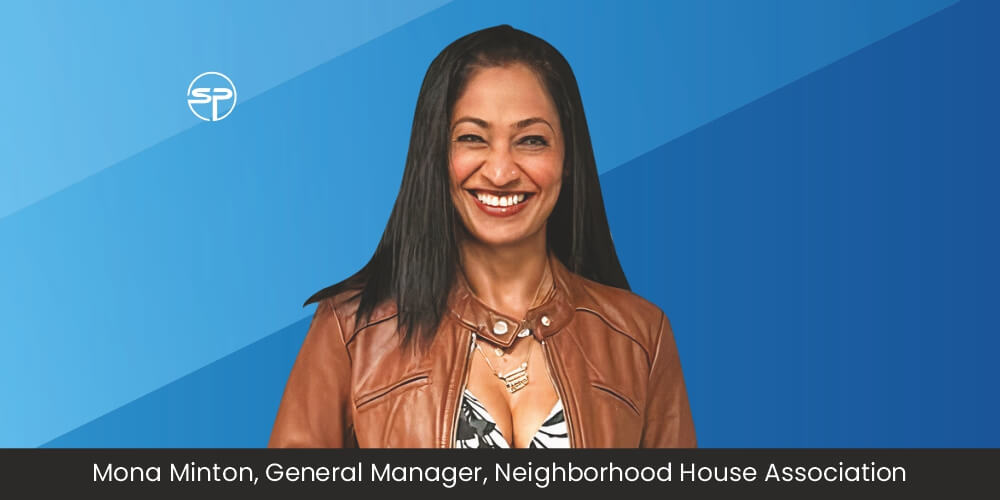 Dr. Mona Minton, the General Manager of Social Services at NHA, is a formidable force in the field of mental and behavioral health, wellness, and family advocacy. Her journey is marked by a profound commitment to improving the lives of men, women, and families, rooted in her own personal recovery, diverse work history, and her experiences as a trauma and cancer survivor. 
Dr. Minton's dedication extends beyond her role at NHA, as she actively serves on various boards and committees, including the Mental Health Contractors Association, California Association for Adult Day Services, External Advisory Committee of the San Diego Center for AIDS Research, Rotary 33, Volunteer Advisory Committee for Donovan State Prison, and San Diego County Suicide Prevention Council. Her involvement in these organizations reflects her deep-seated passion for advancing mental and behavioral health, and her willingness to share her expertise with those in need. 
With over 18 years of experience in clinical research, couples counseling, program development, and individual and group counseling, Dr. Minton is a seasoned expert in working with diverse populations, including adults, transitional youth, the homeless, and incarcerated individuals. Her specialization encompasses a wide range of critical services, including support for drug and alcohol dependency, domestic violence, sex offender rehabilitation, trauma recovery, and mental and behavioral health. 
Dr. Minton's qualifications are impressive, including a Ph.D. in Clinical Psychology, a Masters in Marriage and Family Therapy, and certifications as a Certified Emergency Response Team member and a Certified Trauma Recovery Coach-Advanced. Her expertise is a testament to her unwavering commitment to advancing the field of mental health. 
Beyond her professional pursuits, Dr. Minton places a premium on self-care and motivation. While she acknowledges the importance of self-care, her motivation transcends personal boundaries. She envisions a world where her legacy creates a more caring and loving environment for her children and even her dog. Mona acknowledges that her husband has played an indispensable role in her success. She firmly believes that without his unwavering support, she would never have ventured into the challenging role of General Manager. His dedication to taking care of their children during her demanding work hours allowed her to fully commit to serving her community and catering to her clients' needs. She draws motivation from the bigger picture of her impact on future generations.  
Dr. Minton's motivation is further fueled by the support of incredible co-workers who make the workplace enjoyable and a visionary leader like NHA's President and CEO, who shares her passion. 
She also values the precious moments spent with her family, nurturing a love for travel and exploration. Her stable career not only allows her to show her children the world but also provides essential time off to decompress and find balance. 
An Inspiring Life Journey 
Mona's life journey reflects a strong sense of determination, resilience, and a commitment to both personal and professional growth. Here is an overview of her background and experiences: 
Mona was born and raised in India before relocating to California at the age of eight. While the move initially brought about feelings of sadness and change, she quickly recognized the immense effort and sacrifices her parents made to provide her and her brother with a better life in America. This unwavering support from her family served as a driving force and motivation for her future endeavors. 
At a remarkably young age, Mona began her work journey, taking on her first job at just 14 years old. Over the years, she accumulated a diverse range of work experiences, including positions at Taco Bell, Mimi's Café, Lego land, and various banking centers and residential facilities. Throughout this time, she consistently held at least two jobs simultaneously, showcasing her strong work ethic and dedication. 
As a young adult, Mona encountered adversity in the form of racism, sexism, and prejudice, particularly as a brown-skinned woman. These experiences fueled her commitment to championing diversity and underserved communities. She resolved to create spaces where diversity was celebrated and inclusivity was prioritized.  
Mona's journey has been shaped by her diverse experiences in education and employment, and her commitment to making a positive impact on the world is evident. Her story serves as an inspiring testament to resilience, perseverance, and the pursuit of personal and professional growth. 
Evolution of NHA 
NHA was established in 1914 as a settlement house that assisted immigrants transitioning into the San Diego Community. Over 115 years later, NHA is one of the largest multi-purpose human services organizations in San Diego County, serving thousands of residents (children, families, seniors and youth) each year. The agency has 27 key program areas offered at 125 locations throughout San Diego County (www.neighborhoodhouse.org) 
Curiosity and Compassion 
Mona's deep empathy and curiosity have played pivotal roles in shaping both her personal and professional journey. From childhood, she has harbored a genuine interest in assisting unhoused individuals, a passion that originated from growing up amidst poverty in India. This upbringing cultivated in her a profound appreciation for her own blessings and fueled her desire to extend help to those less fortunate. 
When encountering individuals living on the streets, Mona goes beyond merely offering food; she engages in conversations, shares smiles, and carries their stories with her throughout the day. She possesses an innate curiosity about the life circumstances and events that led these individuals to homelessness. In essence, she is on a quest to answer life's questions, a pursuit that helps anchor her as a professional. 
Mona's loved ones often describe her as an inherently curious person, with both her heart and mind constantly seeking avenues for personal growth in empathy, knowledge, and experience. This curiosity is not confined to her personal life; it also influences her professional philosophy. As a psychologist, Mona brings her own lived experience to her work—a journey that includes 15 years in recovery, struggles with mental health diagnoses, trauma, and substance use. 
Her own experiences have made her a more compassionate manager, a dedicated student, a nurturing mother, a supportive wife, a loving daughter, and a caring friend. Mona is fervently passionate about helping others on their paths to recovery and mental health stability, enabling them to lead happier, healthier lives. 
Mona recognizes that the barriers to survival for many include mental health disorders, chemical dependency, homelessness, criminogenic risks and factors, and physical health disabilities. She comprehends that to truly understand individuals, one must consider their environment and the social conditions that have impacted their ability to thrive both mentally and physically. Mona's holistic approach reflects her commitment to making a positive impact in the lives of those she serves. 
Impactful Advocacy 
Mona has effectively utilized her educational background, leadership experience, and personal journey to continually expand her knowledge and contribute to programs focused on prevention, intervention, treatment, and recovery. She has been actively engaged in various organizations advocating for increased awareness and support for these critical areas, aiming to gain recognition and attention from both the public and policymakers. 
Her efforts have garnered significant recognition, including being named one of the Top 50 Women Leaders in San Diego for 2023, an honor that reflects her outstanding contributions and leadership within her community. Furthermore, her work with the Reentry population has earned recognition from the San Diego Sheriff's Department, highlighting her impactful work with this vulnerable group. 
Mona's ability to seamlessly integrate her personal experiences with her professional expertise has undoubtedly played a pivotal role in her success, making her a respected leader in the field of mental health and recovery programs. 
The Power of Language 
Language holds a profound significance for Mona as it serves as a natural bridge that connects people at a deeper level. In her professional journey, language has been a powerful tool enabling her to communicate effectively with clients, leaders, and employees, enriching their interactions and infusing a sense of culture into the workspace. 
Mona's team comprises a diverse group of strong and talented individuals, each hailing from distinct cultural backgrounds and speaking different languages. This diversity not only reflects the vibrant tapestry of cultures found in San Diego County but also enhances the team's ability to connect with and serve their clients more comprehensively. 
By embracing and celebrating this diversity of language and culture within her team, Mona fosters an environment of inclusion and understanding. This approach not only enriches the workplace but also strengthens their collective capacity to serve a diverse clientele effectively. Mona's recognition of the power of language underscores her commitment to creating a workplace that thrives on inclusivity and cultural awareness. 
Empathy as a Guiding Light 
Mona firmly believes that leading with empathy is essential for professionals working with mental health, substance use disorders, or underserved populations. Empathy enables professionals to see individuals for who they truly are and understand their unique perspectives. It allows them to visualize the struggles and successes of others, fostering a deeper connection. 
Mona emphasizes that everyone can face tough times, including homelessness, addiction, or mental health challenges. Empathy serves as a powerful reminder of our shared humanity and the potential for circumstances to change. It breaks down barriers, reduces stigma, and promotes a compassionate and supportive environment. 
Leading with empathy enhances the quality of care and creates a more understanding and compassionate approach to addressing the needs of those in challenging situations. Mona's commitment to empathy reflects her dedication to providing meaningful support to individuals and communities in need. 
Lessons in Compassion 
Mona's experiences with underserved and reentry populations have provided important insights. Three key lessons in working with justice-involved clients are: 
Stay Open-Minded: Approach justice-involved clients with an open mind, recognizing that their criminal involvement doesn't define their entire identity. They have a unique past and history that led them down their path.

 
Know Your Limits: Dealing with clients who have committed challenging crimes can be emotionally taxing. Be honest with yourself and your clients when you find certain stories difficult to handle.

 
Practice Patience: Recovery and transformation take time, especially for those seeking help in jail or prison. When clients ask for assistance and face setbacks, be patient and supportive. Recovery is a journey with ups and downs.

 
These insights reflect Mona's dedication to understanding and assisting justice-involved clients effectively. 
Unwavering Dedication to Education 
Mona's team recognizes that education is her most potent tool. She is committed to continuous self-improvement as a leader, mother, wife, and psychologist. She avidly pursues courses and conferences to enhance her knowledge and skills. Since obtaining her doctorate, Mona has pursued additional certifications, degrees, and ongoing education to stay current and further refine her expertise. 
Guidance from the Heart 
Mona has valuable advice for those contemplating a career in mental health or working with individuals facing challenges like chemical dependency, homelessness, life skills, and mental health disorders. She believes it's profoundly rewarding work and offers the following guidance: 
Embrace the Rewarding Journey: Working in this field can be one of the most fulfilling experiences. Witnessing individuals make even small changes highlights their incredible resilience and the beauty of a supportive system.

 
Patience is Key: Creating meaningful change takes time. Sometimes, policies, work environments, or external factors can present challenges. Patience is crucial in navigating these obstacles as a professional.

 
Prioritize Self-Care: In the pursuit of helping others, don't forget to care for yourself. Self-care is essential for maintaining your well-being and effectiveness. Make time for activities you love to recharge and stay balanced.

 
Mona's advice reflects her deep understanding of the field and underscores the importance of perseverance, self-care, and a genuine passion for making a positive impact on individuals' lives. 
A Beacon of Hope 
Mona's career has been marked by numerous rewarding experiences while working with clients facing mental health, trauma, substance use, and various emotional and physical challenges. One profoundly impactful experience stands out where she had the privilege of assisting a youth who had endured unimaginable hardships—rescuing her from sex trafficking and substance use while she was three months pregnant and living on the streets, hiding from abusers she had suffered under for a decade. Mona played a pivotal role in transforming her life by helping her secure a stable home, find employment, access critical substance use and mental health services, supporting her through labor and delivery, assisting with benefit applications, facilitating a change of identity, and providing two years of unwavering therapeutic services. In 2002, when this young woman gave birth to her baby girl, she asked Mona to be her child's Godmother. 
Mona was deeply honored by this request and felt immense gratitude for being able to make a profound positive change in this young woman's life. This experience serves as a poignant reminder of the incredible impact one person can have on another's life, and how these transformations can echo through future generations.  
Quote: " Live in the moment, never say never-MAKE IT HAPPEN"  
Website: neighborhoodhouse.org