Heather Croall: A Visionary in the Creative Sector Who Delivers Innovative Festival and Arts Programs, New Audiences, and Organizational Growth
The 10 Most Admired Women Leaders in Business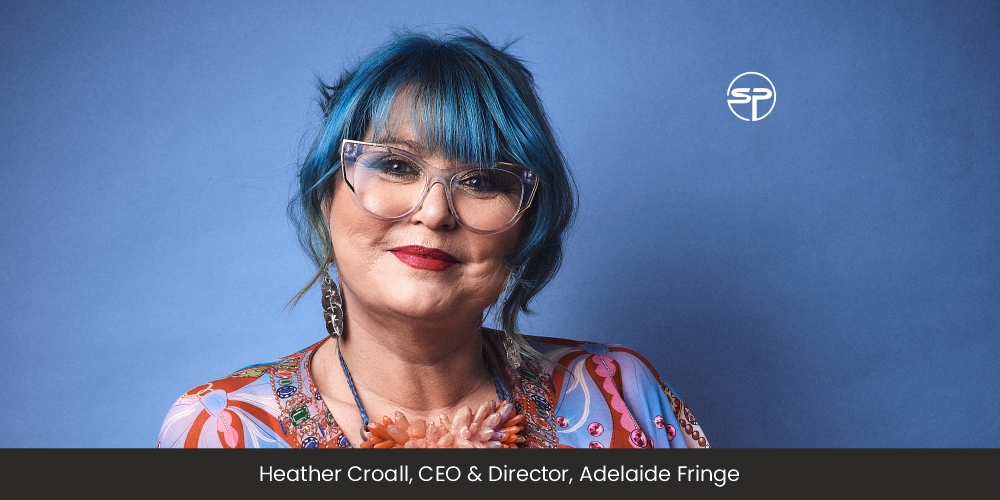 Heather Croall, a renowned CEO and director in the creative industry, is known for her visionary approach to delivering innovative festival and arts programs that attract new audiences and foster organizational growth. Since taking on the role of director and CEO at the Adelaide Fringe in 2015, she has doubled the annual ticket sales from 500,000 to 1 million which is a testament to her remarkable leadership.
Heather has a proven track record in partner engagement, capital acquisition, and digital transformation, which is backed by her international experience in film, TV, and the arts. Her expertise in implementing organizational change, building capacity, and curating innovative artworks, performances, and experiences is well established. Under her leadership, she has expanded the audience bases of all the festivals she has led and has successfully transitioned several festivals and arts organizations into the digital age. Heather is always seeking new ways to expand her knowledge and is currently studying at MIT, demonstrating her commitment to continuous learning and growth.
Path to Joining the Artistic World
Upon finishing school, Heather was eager to travel overseas, and immediately flew off to Europe, where she explored various countries by rail and bicycle. Her family had relocated to Australia from the UK when she was just three years old, and as most of her relatives still lived in Europe, she had the opportunity to stay with them in different places, including an aunt in Glasgow and a cousin in Bordeaux. Heather's cousin worked at the stunning Bordeaux Theatre, which left a lasting impression on her.
Heather ended up living in London for several years and working at the renowned Sadler's Wells Theatre, where she witnessed some of the most inspiring performances of her life, such as Michael Clark's dancers with the Fall in I Am Curious, Orange, and MOMIX. After some time, she returned to South Australia to pursue higher education and became a documentary filmmaker, producing and directing documentaries for major broadcasters like SBS, ABC, BBC, and Channel 4, among others. Alongside her filmmaking, she also worked at festivals.
Back in 1992, Heather started working at The Star Club during the Adelaide Fringe Festival, where the big hits of the season included Lily Savage and Stomp! This experience sparked Heather's interest in the Fringe, and she went on to run events for many years to come. Heather has always been fascinated by creative works that combine different disciplines to create innovative shows that offer the best of storytelling and interactivity. She also enjoys bringing people from different backgrounds together to collaborate on unexpected projects.
In 2002, Heather curated a series called Digidocs for the Adelaide Fringe, which toured the world and showcased some of the earliest interactive works created by artists and tech designers working together. As industry manager at the South Australian Film Corporation, she also set up several digital initiatives with broadcasters to help filmmakers and coders collaborate on interactive works. This included running Crossover Labs with the Adelaide Film Festival, Australian Film Corporation and many others.
In 2003, Heather became the director and CEO of the Australian International Documentary Festival, where she created a marketplace called MeetMarket. The MeetMarket quickly became known as a premier destination for documentary commissioners and funders from around the world. In 2005, Heather moved to the UK to take up the role of Director and CEO at the Sheffield Doc/Fest, where she introduced "interactive" as a program strand and established the MeetMarket as one of the world's leading marketplaces for documentaries and digital works. She also oversaw the running of several Crossover Labs, resulting in the production of new and innovative immersive works.
Adelaide Fringe
The Adelaide Fringe is a massive festival with over 1200 shows spread across 13 genres, including cabaret, comedy, music, theatre, dance, circus, film, workshops, magic, and interactive performances. The festival takes place in over 500 venues throughout Adelaide, and it is an open-access festival, which means that anyone can register a show in the program.
To help artists find a suitable venue, the festival organizers offer assistance in matching artists with available spaces. Once a venue is secured, the artist and venue work together to determine the number of performances, length of the season, specific timeslots, and ticket prices.
During the month of the Fringe, there are approximately 50,000 ticketed performance sessions, with a broad demographic of attendees ranging from babies, teenagers to centenarians. The festival sells around 30,000 tickets per day, resulting in approximately 1 million ticketed attendees for the entire month. When free activities are included, the number of attendees reaches over 3 million.
Heather is the Director and CEO of the Adelaide Fringe, where she oversees the festival's overall vision and strategy and ensures that all stakeholders, including artists, presenters, venues, staff, volunteers, sponsors, funders, donors, audience members, and industry delegates, work together effectively.
Collaboration is key to the Adelaide Fringe's success, and Heather leads a brilliant team that sets annual plans and goals using an agile approach. The festival's primary objective is to sell as many tickets as possible, with Box Office revenue distributed to artists, venues, and presenters to ensure they have the best possible season.
In the last eight years, ticket sales at the Adelaide Fringe have doubled, reaching one million attendees. This year, the box office generated over $25 million, and the festival generated more than $100 million in economic benefits for South Australia. The festival team is committed to creating a vibrant and rewarding experience for everyone involved and ensuring that the city of Adelaide transforms into a massive festival playground.
Heather's role is to inspire the team to deliver an exciting and exhilarating festival that continues to grow and attract as many people as possible to support the artists in the program.
Redefining the opportunities for artists at Fringe
Upon Heather's arrival at the Adelaide Fringe, artists expressed concerns about the high inside fees charged on their tickets and the lack of an arts grant pool they could apply to. Heather worked to address these issues by securing government support to reduce the inside fees from 12–14% to 5%, resulting in higher box office settlements for artists. To create a grants pool, Fringe set up a donor circle that has grown significantly, and now, with government support, it provides hundreds of grants to artists and presenters totaling about $1 million dispersed each year.
Heather also introduced the "magic" and "interactive" genres in her first year at Fringe, which have since become integral parts of the program. In response to stakeholder needs, Fringe has also added "Workshops & Talks" and "Eat & Drink" as new genres.
One of Heather's major focuses has been developing the marketplace behind the scenes at Adelaide Fringe, where artists can get booked for future tours and performances around the world. With Heather's experience in creating fruitful marketplaces, the growth of the marketplace has been phenomenal in the last 8 years and has become a major reason for many artists to come and perform at the Adelaide Fringe.
Working with Extensive Research and Planning
The digital transformation of the Fringe systems was a major undertaking and required a significant investment of time and resources. The new system needed to be able to handle the scale of the Fringe, which included thousands of artists, hundreds of venues, and tens of thousands of performances over the course of a month. Additionally, the system needed to be user-friendly and work seamlessly on all platforms, including smartphones.
To ensure that the new system met the needs of all stakeholders, the team conducted extensive research and planning. They used user-centered design methodologies to understand the user journeys of artists, presenters, venues, sponsors, donors, and audiences. This allowed them to identify pain points and areas for improvement, which were incorporated into the design of the new system.
To build the new platforms, the team adopted an agile approach, which allowed for flexibility and responsiveness to feedback throughout the development process. The result was a digital system that was fit for purpose and able to support the growth of the Fringe, including an increase in ticket sales.
The digital transformation of the Fringe systems was a significant accomplishment for the team and has helped to improve the experience for all stakeholders involved in the Fringe.
Building a Digitally Advanced Team
After the development of its advanced digital platforms, Adelaide Fringe committed to a continuous improvement process that required an internal team of coders. This team enables the organization to enhance the platform regularly based on feedback from stakeholders and customers. To cater to the needs of various customer and stakeholder groups, the platform has created multiple personas, and every year, the organization strives to improve the Fringe experience for each persona. The digital platform is agile and constantly evolving to improve its functionality. Adelaide Fringe also invests considerable resources and time in improving the front-end of its ticketing platform every year. The organization listens carefully to the customers' feedback to identify any obstacles they face while purchasing tickets and promptly address them. All of these efforts are aimed at ensuring that the artists can sell the most tickets and have a positive experience during the Fringe.
Learnings that Enable Resiliency
Heather, a young filmmaker attending festivals years ago, was frustrated by the limited and exclusive marketplace opportunities for doing business and funding deals. This led her to build the Meetmarket when she became a festival director, creating the inclusive marketplace that she wished had existed when she was a young film producer. The Meetmarket was designed to help people connect with the right people and was built on a sophisticated platform for matchmaking between artists and buyers. Heather has since built these types of marketplaces at every festival she has directed in the last 20 years.
The marketplace at the Adelaide Fringe, called Honey Pot, has become a major attraction for artists registering for the festival. Over 350 buyers from around the world, including festival directors, art center curators, venue owners, cruise ship programmers, and TV show commissioners, attend the Adelaide Fringe to scout for talent. Millions of dollars in touring deals are done at Adelaide Fringe, making it a hub for business opportunities in the arts industry.
Forming a Mutual Bond  
Every year, the Adelaide Fringe team takes a break from the office environment and heads to the countryside for planning days. During these days, the team looks for ways to improve and overcome challenges identified by stakeholders and customers to enhance the overall user experience. Together, the team has worked on defining the organization's purpose, values, manifesto, and yearly goals.
The team also conducts regular surveys and check-ins with the staff to ensure they feel heard and included. It's crucial for the team that their staff feels valued and that the organization is actively living up to its values.
Together, the team defined their purpose: "To inspire creativity, engagement, and learning through the joy of bringing artists, audiences, venues, and communities together."
Sharing Attributes of a True Leader
Heather believes that it's crucial to keep learning and growing. She completed the Governor's Leadership Fellowship and gained valuable insights into self-awareness, empathy, and adaptive leadership methodologies. Heather believes that being adaptive is one of the most critical attributes to possess in today's challenging and fast-changing environment. It goes beyond just solving problems; it also involves anticipating issues and mobilizing the team to adapt to significant changes.
Website: www.adelaidefringe.com.au