LaToya Evans: The Communications Leader Who Helps Her Clients Make History
The 10 Most Admired Women Leaders in Business to Follow, 2023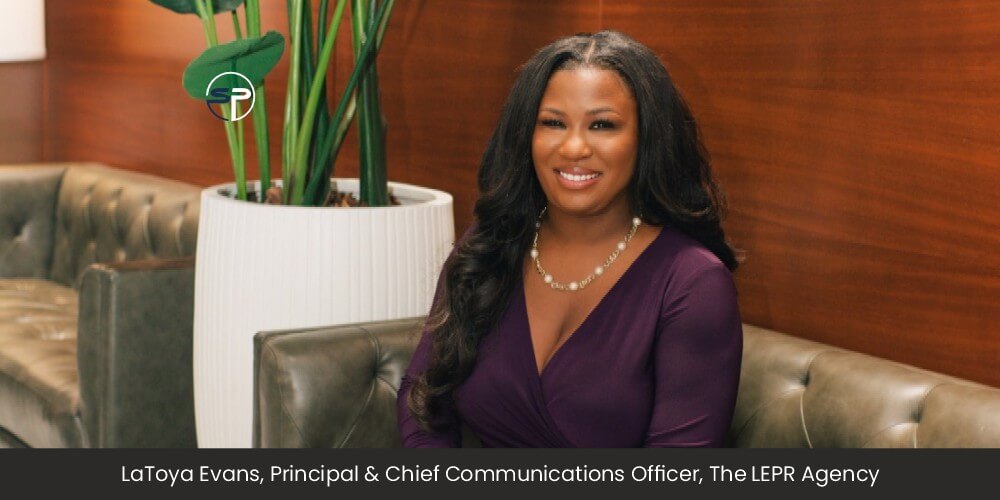 The corporate story and employee experience – along with those of celebrities and major brands – are shaped through communication, which also includes crises communications. For LaToya Evans, 36, she's been on both sides, having mastered the art of corporate communications as an executive and later as an entrepreneur who has influenced history by being a spokesperson for some of the world's most prominent people.  
Specializing in both crisis communications and strategic media relations, Evans started her career in corporate communications and served as a senior crisis communications strategist and spokesperson for some of the world's most notable brands, including Walmart, Bank of America, IBM, Philips, and Compass Group. In 2017, she founded The LEPR (pronounced LEAP-er) Agency, an international, Edelman-affiliated strategic public relations, crisis communications and advertising firm based in Charlotte, NC. 
The LEPR Agency  
The company is known for proactive media relations, crisis communications, reputation management and public relations. Notable clients of the LEPR Agency include the family of George Floyd and Attorney Ben Crump; Pastor John Gray; the late Miss USA Cheslie Kryst; MTV's Leah Messer; presidential candidates Joe Biden, Andrew Yang; Mayor Michael Bloomberg; and corporations including Twitter, Coca-Cola, Fifth Third Bank, and Dentsply Sirona. 
LEPR has also been called upon as one of the leading crisis communications agency in the world by hundreds of notable people and organizations.  
Years of Corporate Experience  
Evans spent the earlier part of her life pursuing her corporate career, which laid the groundwork for the historic work done at LEPR. When Evans was still in college, she started her first company, a freelance writing consultancy for magazines like Glamour and People magazine. While being a journalist was her passion, the path led Evans into public relations during the economic recession in 2008.  
"At the time, I thought, I would take a corporate role and get corporate relocation. I could work the job for the next couple of years and continue being a freelance writer until the recession blew over," said Evans. "That didn't immediately happen, and I actually fell in love with public relations while doing the work." 
Prior to building LEPR Agency, she served as the head of corporate public relations at Ally Financial and Head of Communications, North and South America and Global Crisis Communications Co-leader for Cisco Systems, leading a seasoned team of two dozen communications professionals. Evans was also previously Vice President, Chief Communications Officer for the U.S. corporate dining division of Compass Group, the world's largest foodservice company, reporting to the CEO. 
Prior to joining Compass Group, she was Vice President, Corporate Communications, at Bank of America, where she oversaw media relations for the east coast and northeast, including crisis communications for the region. Having experience in multiple industries, Evans was also the Senior Manager of U.S. Media Relations at Walmart Corporate, the world's largest company, where she headed strategic media relations for six retail divisions and served as a national media spokesperson. She previously lived in New York and oversaw media and various entertainment partnerships across the U.S. for Philips Electronics and managed communications for IBM's global technology services division, writing for the inventor of LASIK eye surgery and being part of the public relations team that launched the famous artificial intelligence computer, Watson. 
A Journey; Need to Purpose  
Evans' firm was founded out of need. The need for her to perform the work outside of her executive "day jobs" came after she spent years in large organizations managing communications teams, and she has continued along that road ever since. 
While transitioning between executive roles at Compass Group and Cisco Systems, the chance to oversee communications for a well-known politician during an election that attracted widespread, national media attention presented itself. In the downtime, Evans took on the campaign, and it became a historic win. The project led Evans to set up an LLC when it became time to be compensated because she never meant to pursue entrepreneurship as a full time or even part-time career.  Even as she held those full-time (very busy) roles, she continued to get approached by brands for help with PR, so she began doing that work on the side to help people in her network who had small businesses and maybe couldn't afford a major agency or a full-time person. That grew to the point where international brands wanted her to represent them until just before the pandemic, when she left her last corporate job in the summer of 2019 to focus solely on the business. 
Carrying Out the Mission 
The LEPR Agency is very much a people-centric, purpose driven organization. Evans created the type of corporate environment she craved years ago while also bringing in the best practices from the field. Given that she has worked on so many high-profile projects and crises.  
"I'd definitely say I brought more humanity to the field," said Evans "As a practitioner, I've been praised by our industry organizations and in academia for my approach, which includes utilizing the principles of journalism because I was a journalist before I went to public relations. That includes putting ethics at the center of the work." 
It also means that Evans has repaired the reputations of corporations and notable figures by not only putting ethics at the heart of it but also creating opportunities and having meaningful conversations.  
She adds, "My firm isn't a pure publicity or press release factory—I've committed to making sure our clients are at the right place with the right message at the right time, which makes all the difference." 
She has also built her practice as an unlikely entrepreneur with a business model that differs from traditional public relations firms, allowing clients to yield big impact with major cost savings, and that's helped to differentiate them in the marketplace. 
Ways to Ensure Growth and Success 
Even in Corporate America, Evans was always the type of leader who listened to her employees because they always knew the historical context of other events at the company and saw things in a way that leadership often isn't exposed to. The same is true in entrepreneurship.  
"My team, my peers, and my mentors are vital to the success of the business," she noted.  
Her team knows the ins and outs of each client and can feel every nuance in their energy in some interactions that Evans is not going to be privy to as a CEO. Evans sees that their gut feelings are key in steering the business, as they're usually right—and that's what happens when one hires the right people. She adds, "You don't just hire them for their professional skills, but also their instincts. Their soft skills are extremely important in this type of work."   
Evans listens closely to her peers for trends, especially when it comes to industry and the economy for work. She shares, "I often call other PR and marketing leaders and ask them, 'are you seeing this in your business?' and you'd be surprised to learn that the answer is typically 'yes,' no matter what their revenue or location is. So having friends in the business is key, and that's why collaboration is so important." She also adds, "My mentors also help me with other aspects of growth and success, typically overarching advice, new business structure, and some of the more difficult situations with clients. They're instrumental there." 
Skills of Expertise  
One of the many of these soft talents is communicating with clients. In order to comprehend how clients are regarded, Evans feels that it's critical to be able to see things from other people's perspectives. From there, crafting the ideal message that solves the problems with that view is rather simple. Evans observes that many people make the error of ignoring this, despite the fact that it may be the most crucial element of communications. She opines, "Crises are always challenging for clients because, in their minds, their world has ended. But motivation comes from putting it in perspective, being honest about the risks, and also helping the client understand there's a plan to get them on the other side."  
Being a Leader  
Making wise judgments both personally and professionally is arguably the most crucial quality for successful leaders. Evans has discovered that a person's personal life may swiftly affect their career choice. Evans thinks that the next round of female leaders would do well to heed her advice.
As a business leader and person, Evans' vision is to continue to uphold the standards of her profession and do the work that changes lives. She says, "To have the opportunity to work on so many historic events and influence them has given me an incredible sense of purpose."
She hopes to continue to do that while having a fruitful life outside of work, too.
Website: www.lepragency.com