Maxine Miller: Resolute Mindset
The 10 Most Admired Women Leaders in Business to Follow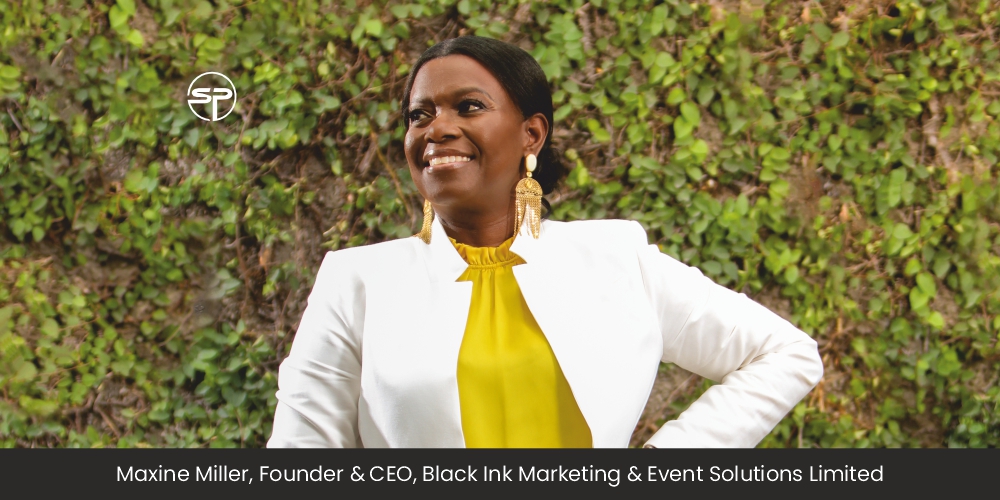 In the past decade, the marketing sector has witnessed many women ascend the corporate ladder to become trailblazers and powerful thought leaders. One such marketing expert is Maxine Miller, founder and CEO of Black Ink Marketing & Event Solutions Limited, a marketing and communication specialist with over fifteen (15) years' experience.
Maxine's journey started in the Tourism Sector followed by Corporate Jamaica, which prepared her well for the role of entrepreneur that she is today. She says, "Tourism taught me the "why", Corporate Jamaica taught me the "how", coupled with my stick-to-itiveness which has propelled me forward with life changing highs and lows."
Maxine's entrepreneurial spirit inspired her to launch a business partnership, but it failed quickly due to a lack of required idea alignment and contrasting operating styles. These differences led to power abuse and mistrust. Ultimately, it all became problematic as the management team was suddenly unstable. She entered a mode of critical thought and recovery as a result. "I faced my storm head on. Thank God I am still standing, all due to a belief system that was resolute, as God enabled me."
"On reflection, this drive and passion created a company that is now bigger than me," she says. With the right team, the business grew far beyond what she imagined or dreamed of. Maxine attributes her personal and professional growth to her ability to set boundaries, her self-discipline, and her attention to her gut instincts. She asserts, "We have an innate God given ability to do better than well. It is our birthright to be successful. So, every day we must contend for an abundant life." "Success is self-discipline practiced every day."
Experiences Before Becoming an Entrepreneur
Maxine served, cumulatively, fifteen years at Couples Swept Away and Sandals Beaches Negril, respectively, as an Entertainment Manager, before founding Black Ink. Maxine was regarded as one of the most innovative people in the industry through her ability to develop "excellence" in the entertainment staff and was incredibly creative when it came to planning guest activities and entertainment programs. She participated in numerous overseas sales and marketing initiatives promoting the resorts.
After serving Sandals Beaches Negril, she moved to Red Stripe / Diageo where she started with the company as a Sales Representative and quickly made her mark as one of the best on the team from winning monthly incentives and awards to then being promoted and relocated to Red Stripe's head office in Kingston, Jamaica, as an On Trade Channel & Route Executive. The Route Channel Reinvigoration Initiative was her main assignment, where she designed and implemented several Marketing / Below the Line Activities for the company's Route customers.
Truth to Its Solutions
Founded in August 2011, Black Ink Marketing & Event Solutions Limited is a Jamaica-based creative marketing and branding agency. During its early days, the firm specialized in providing marketing consultancy and promotional sales support to a handful of clients in Jamaica. This has blossomed into a multifaceted company with more than eleven years of experience as a top marketing and event solutions agency in Jamaica and the Caribbean.
Under Maxine's leadership, the company provides a wide range of services, including field force management, in which it hires, develops, and manages the staffing for the projects of its clients. Additionally, it offers its clients event management, integrated marketing communications, and content creation. Briefly put, Black Ink is a full-service agency that handles all aspects of events, from the ideation and planning stages to the execution and post-event reporting and analysis.
Maxine is a transformational leader, enabling her employees to reach Black Ink's goals using creativity, experience, resources, and technology. She says, "My style carries the five F's…Focus, Fair, Frank, Friendly, and Firm."
Redefining Marketing and Branding Space
With progressive thinking and innovation, Maxine and her team carve out a niche in the marketing and branding space. A sister company, Black Ink Images and Signs Limited, which specializes in large format printing and custom fabrication, was added to the business in 2018. The company was driven to acquire best-in-class machinery in order to ensure top-notch results from the design to fabrication process of lit and non-lit signs, banners, retail displays, booths, and more.
Not long after establishing the sister company, rebranding, and repositioning it as a creative marketing and branding agency, the company became a well sought-after printery and signage service provider and employer on the island. They kicked it up a couple of notches on quality; no comprise whatsoever.
Thriving in the Midst of Chaos
When the global pandemic hit, the marketing and events side of the business came under immense pressure, as everything with consumer-facing activations came to a standstill for several months. She shares, "We then had to brace ourselves with optimism as we now had to think about things differently." The team quickly latched on to the idea to design, produce, and sell decals and signs for 'social distancing', 'wait here' and 'no entry without a mask." However, those were still not enough to generate the kind of income the company needed to keep its doors open. Maxine recalls, "We needed an idea that would give us a bigger bang for our buck. Through careful research, we saw major spikes in the demand for alcohol and dispenser supplies."
Black Ink's creative team designed a hand sanitizer station to house the dispenser and include COVID-19 messaging, with the option for companies to include their logo and brand colors and, most importantly, be easily portable. And Voila…this was a hit. Black Ink's printery and signage services quickly became the pivot.  Soon after, it had to step up production to meet the increasing demands, all happening in the heights of lockdowns and curfews.
Between 2020 and 2022, Black Ink outfitted over 50 companies with its hand sanitizer stations islandwide; produced and sold over 500.  This innovation has cushioned the company from the scarring effects of the pandemic.
Praise for being Excellent
Black Ink Images and Signs Limited won its first award recently.  The company was recognized as the winner of the Productivity Innovator Award for 2022, the top prize in the corporate category presented by the Jamaica Productivity Center, an arm of the Ministry of Labour and Social Security for the innovation of the hand sanitizing station.
They were also nominated by the Jamaica Manufacturers and Exporters Association for an award in the category of Productivity and Competitiveness….a category for top performing companies. "Never in my wildest imagination did I see this coming, a company that we built from the ground up competing for such a prestigious award amongst these longstanding and esteemed entities, one being my old place of employment….it was beyond euphoric for us on the night of the gala event back in October 2022… 11 years ago who would have thought", beams Maxine.
The marketing side of the business has long been recognized as an award-winning agency with several coveted local and international awards.
"Future change and expansion are on the horizon as we have progressively outgrown our space, which will be our next big move," Maxine says.
Improving Technical Capabilities
Building a digitally advanced team in the organization is an integral factor when determining the shape of the team. Maxine states, "It is a requirement that prospects have technical capabilities when joining, as this is part of our business model that enables us to compete and win in the global digital landscape." The domain of marketing is constantly evolving, and a large portion of this change is occurring digitally. According to Maxine, workplace cultures in businesses should reflect this, which is why they make room for their team members to adapt to modern technologies and diverse, largely digital, working styles around the world. The team must be and is on the cutting edge of the digital advancement while riding the wave of technology, from working with clients who are leaders in the global digital transformation to the business' support partners who are always helping it to push advanced tactics in the creative sphere. Maxine considers that this is the only way businesses can remain relevant, satisfy, and surpass their clients' expectations by always staying on top of international best practices.
Guiding Notes for Entrepreneurs
Maxine has learned through her years of experience and entrepreneurial journey that one's capacity to assess opportunities and risks is extremely valuable. She claims that a lack of funds to reinvest in the company will and can stagnate growth. Also, without established policy and procedure, the culture of any business environment becomes non-descript and anybody's game.
A motivated and dynamic team is the secret sauce to the success of any business. She says, "You want people who will be excited to get out of bed in the morning." She further adds, "It is imperative to collaborate and grow strategic alliances in the business community, which will always propel you and your business to the next level."
Searching Leaders for Future
Maxine's vision as a leader is to develop successors that can carry the business vision, mission, and plan in her absence. She wants to create an environment that can help build her successors up, empower them, and show them how to make money. Maxine says leaders should endeavor to leave a mark that will ultimately become their legacy, and it could be possible by training future leaders. She believes that running a successful business requires level-headedness, self-discipline, focus, and endurance, whereas building a business from the ground up necessitates putting on the focus lens, or blinders if you will. She says, "There is nothing wrong with going under the radar while you are building, or else anything and everything will distract and pull you away from your most desirable goals."
She also firmly believes that every business leader must learn how to up-skill and re-tool to stay relevant. She asserts, "There is no easy way to influence change; you must be the change you want to create by treating people fairly, operating with integrity, being honest in your intentions, being a good listener, and paying attention to what is happening around you. Acknowledge that you don't have all the answers, so it's not 'your way or the highway'." She believes that the old way of doing things is dead, the traditional career is dead, and in an age of an enterprising shift, leaders must promote intrapreneurship within their organizations.
No Limits on Dreams
Her advice for every visionary out there is that there is no limit, and the only limit is the one placed on oneself. She says, "Learn to achieve the life you desire. I have learnt how to rethink and reframe my mindset." She is deliberate about her goals, which has put her on the path to becoming the person she is meant to be.
"It is never too late to start working on that big idea…."
Maxine suggests, "Seek guidance on how to make money and how to keep it. You must be internally motivated and risk tolerant. Financial literacy is a fundamental part of the success trajectory. It is better to go broke buying assets which will help you to acquire wealth than buying things to impress others."
 Visit: www.blackinkja.com