TAMMY MATA: A PEOPLE LEADER WITH BROAD EXPERIENCE IN BOTH THE CORPORATE AND PUBLIC SECTORS
The 10 Most Admired Women Leaders Making a Difference in Business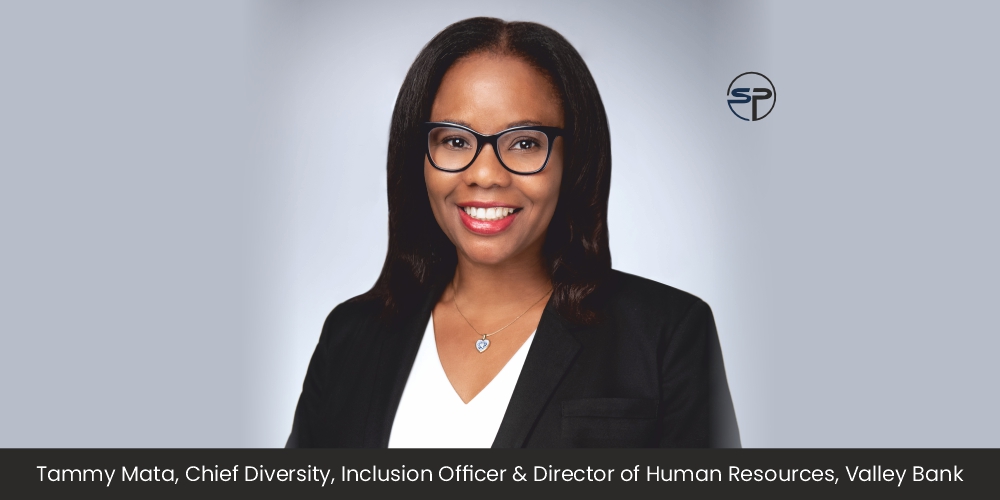 Diversity, equity and inclusion (DE&I) leadership has become an important aspect of organizational success. But the reality is there is still much work to do to ensure everyone has equal opportunities to lead and succeed. So how are organizations doing that?
Tammy Mata, Chief Diversity and Inclusion Officer and Director of Human Resources at Valley Bank, believes the key to enacting both small- and large-scale change in an organization is engaging stakeholders and connecting them to the journey.
"Organizations must take concrete steps to support the advancement of marginalized groups in DE&I leadership," she says. "It all starts with creating and then nurturing a culture that values diversity and inclusiveness."
In her leadership role, Tammy has spearheaded and executed on a number new DE&I initiatives, realigned Valley's resources, and focused the bank's efforts on shared goals and objectives. She makes sure to listen to associates to understand their perspectives, needs, and experiences, engage in meaningful dialogue, and put feedback into action.
"We aim to increase access and opportunities for both employees and clients," she says. "One of my most important goals is to create pathways for success for all employees while also opening doors for our clients to achieve their own success."
How did she get here?
It didn't start in human resources. Tammy graduated from Princeton University with a degree in Politics and a certification in Afro-American studies. From there she went on to earn her JD from Georgetown University and kicked off her legal career in the Investigations and Prosecution Division at the U.S. Office of Special Counsel.
"I dealt with cases of employment discrimination and other unlawful personnel actions brought forward by federal employees," she says.
Tammy then transitioned to private practice, where she spent several years practicing labor and employment law for two national law firms, serving clients in the financial services sector. She then continued her employment law practice in the financial services industry, as in-house counsel to two global financial firms.
While in her first in-house counsel job, Tammy realized everything she learned as a litigator and outside counsel had provided her with the experience, knowledge, and confidence to push for change.
"I knew then that I had the ability to lead and inspire change," she says. "These learnings inspired me to move into the DEI space, one of the areas I had been covering as in-house counsel."
Why Valley Bank?
Through her experience representing global financial institutions, Tammy realized that the financial services industry plays a crucial role in the economy and has immense potential to promote equality for historically marginalized groups.
For more than 95 years, Valley Bank has been serving communities with both personal and business banking solutions. Valley manages over $57 billion in assets and has a vast retail and commercial footprint, with more than 200 branches stretching from New Jersey and New York to Florida and Alabama, as well as business banking offices in Chicago, Los Angeles, San Francisco, and Austin.
"Valley has had a great impact on communities throughout its history," she says. "With my teammates, we leverage that history to positively impact not just our internal culture but society as well. This is especially true for those who have been previously excluded from access to jobs and career growth, as well as access to funding and financing."
It's about Authenticity, Professionalism, and Collaboration
Tammy has found that by listening to perspectives that differ from her own, she gains a better understanding of blind spots and can better comprehend what she may have initially overlooked.
"None of us have all of the answers," she says. "So, it is critical that we remain open to different perspectives and ideas."
She also strives to create a psychologically safe space for people to collaborate. This means that as an organization, Valley focuses on excellence—not perfection.
"What matters is being accountable, collaborative, and knowing that if you stumble, your team will help you find solutions," she says. "This environment helps people to be curious and creative because they know they will be supported and that their contributions are valued."
Bringing Awareness and Growth
One of Tammy's key accomplishments was launching Valley's Associate Resource Group (ARG) program, creating community across its geographic footprint. In 2022, the ARG program produced close to 40 live events and experiences that provided awareness, personal growth, professional development, and learning for Valley's associates.
"These programs have had a tremendously positive impact on the culture of Valley," she says. "This has been reflected in our employee surveys and the feedback we're hearing from people across the organization."
Additionally, Valley's recruitment and associate development efforts have been enhanced through programs such as the Jumpstart series (focused on Valley's talent competencies) and the Widening the Lens education series, which featured live sessions and conversations on topics like: Mitigating Unconscious Bias; Being An Upstander Against Racism; and Building Cultural Competency.
Creating a Culture of Empathy & Inclusion
Tammy is proud of the culture that Valley has created for its employees, which allows people to bring their authentic selves to work.
"Every employee is empowered to make decisions, make mistakes, and learn from them, as well as help their colleagues," she says.
Cultures across many organizations were challenged in 2020 with the onset of the Covid-19 pandemic. Like many organizations, Valley pivoted to a remote working environment and created greater connections with its associates by focusing on their health and well-being.
"We flexed our empathy and inclusion muscles by centering on our shared humanity, which helped us achieve our personal and business goals," she says. "I would encourage business leaders to remain focused on people-centered leadership so that they bring out the best in their teams and promote inclusive and collaborative work environments."
Tammy knows the work to enhance DE&I initiatives at Valley – or anywhere – is a continued journey, but one she is proud to take with the leadership team at Valley that has embraced her ideas and vision.
"Creating space for greater understanding of one another's experiences is so important for any organization's success," she says. "It allows teams to engage in meaningful dialogue and affect positive change.
"As leaders, it's so important that we listen too," she adds. "By listening, we can better drive DE&I success in an organization because we can better navigate obstacles, obtain key insights from our colleagues, and, most importantly, garner support to successfully execute on our objectives."