Chris Gaudreau: Solving Crucial Challenges by Upholding High Service Levels and Value for Clients
The 10 Most Influential CTOs of the Year, 2023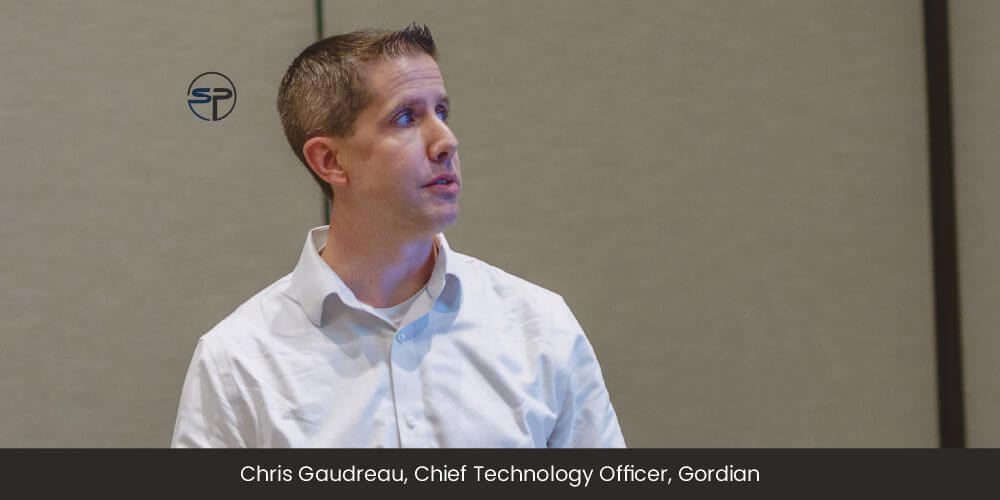 From inconsequential daily tasks, like ordering delivery for lunch, to significant missions, like maintaining a community's critical infrastructure, — most of our actions are powered by technology. And what fuels that technology is data and the vision of teams and leaders dedicated to efficiency and the advancement of society. Behind the greatest high-tech solutions are high-touch human teams that listen and react to their customers' pain points and challenges. One of the leaders driving technology forward with a customer-focused mindset is Chris Gaudreau. Chris Gaudreau currently serves as Chief Technology Officer (CTO) for Gordian, the leading provider of unrivaled insights, robust technology, and expert services for all phases of the building lifecycle. As CTO, Chris leads the data and software development teams, drawing from his nearly 20 years of experience working in the construction information sector.
Prior to joining Gordian, Chris led technology, product, analytics, and data organizations at Dodge Data & Analytics and Benefitfocus. He is passionate about providing clients with data-driven solutions that help them solve issues, make better decisions, and increase value. Chris is responsible for driving Gordian's strategic vision and creating new workflow tools, data insights, and technology-based solutions that help clients succeed throughout the lifespan of managing capital-assets.
Passion for Resolving Challenges
Because of his experience in the fields of product, data, and software, Chris is able to understand how technology can directly influence the people who reside, work in, or use the buildings being constructed or renovated.
Although he has always been passionate about problem-solving, he believes that understanding customer pain points is the key to do it as effectively as possible. At Gordian, Chris continues to be motivated by this drive towards efficient problem solving.
Gordian provides a distinctive combination of services, all supported by an unrivaled combination of data insights, technology, and expertise. Chris believes the best solutions result from an ideal blend of data insights that drive software enabled workflows supported by world-class services. For Chris, this is what Gordian does best.
Contributing to Redefining the Industry
Gordian is an operating company within Fortive, a Fortune 1000 company which focuses on essential technology for the people who accelerate progress. As the cost data leader, Gordian aims to revolutionize the construction and facilities management sectors by helping the market better understand material, labor and equipment costs to inform project budgets and capital plans across all stages of the value chain. That said, Gordian's role has a larger objective, improving the lives of the people within communities. The combination of Gordian's technology and data solutions helps public and private owners maximize their budgets and truly chip away at their maintenance backlogs. This means more schools can be repaired faster, leading to safer environments for students, healthcare facilities can stay up to date so the best and most affordable care can be offered, offices, factories, warehouses and other work environments can be modernized keeping our workers productive.
The value chain for the construction and facilities management sectors is lengthy and complex. Gordian's strategic focus is to simplify the complex by offering services that facilitate the linking of these value chains. Gordian offers the tools to estimate new construction and the repair of existing structures, as well as the mechanism to secure the project team, materials, and budget procedure to carry out the job. It also assists owners in better assessing the problems of their existing buildings.
From a development standpoint, Chris believes that it's critical to offer a continual supply of new value to keep up with the changing nature of the industry and client requirements. The teams at Gordian that develop software and data are responsible for driving this continuous value delivery. At the same time, the team focuses on creating new innovations that aim to better connect the end-to-end lifecycle across the construction and facility management value chains.
Leading by Adding Top Tech Advancements
Gordian has a solid technical foundation and knowledgeable leadership, and in the past year, the company has undergone substantial organizational, managerial, architectural, and process improvements that have sped up development and increased the value offered to customers. Chris is extremely pleased with the team's execution and delivery skills, as well as their capacity to accept change, become customer-obsessed, and take on significant challenges without hesitation.
Gordian employs a platform strategy in which teams focus on delivering capabilities, reusable components, and portable data assets. By providing value to clients quickly and iteratively, Gordian will be able to develop faster and maximize ROI.
Gordian has segmented its product architecture into three fabrics as part of this strategy: the data fabric, the service fabric, and the application fabric. Gordian has been able to boost development velocity from quarter to quarter because of this strategy, resulting in a number of fresh innovations and improvements debuting in 2023.
With the help of these deliveries, Gordian was able to launch its data lake strategy as a component of the data fabric, a new service layer for its cost data as a component of the data service, and an entirely new UI that offers a more user-friendly workflows for clients.
Chris is most pleased with its implementation since it forced teams to alter the way they work, solve problems, and communicate with other teams from other functions. The implementation needed efficient teamwork amongst product, software, data, UX, and architecture. Additionally, because Gordian seeks to extend offerings to downstream phases of the construction lifecycle, this implementation will open real prospects for future innovation because UI assets, services, and data lakes can be transferable to additional Gordian products or to other 3rd-party connections.
Leading to Empower
Chris' management style squarely focuses on empowering teams to make decisions. While that's easy to say, delivering on that management style requires:
A clear strategic vision, alignment to objectives and a channel for iterative feedback
An environment to take on big challenges without the fear of failure
Strong communication skills and honesty frameworks to inform at all levels
In Chris's opinion, teams must comprehend the company's strategic vision, how it relates to the corporate product roadmap, and how it affects their job. Teams are unable to make decisions successfully without this alignment because they are unable to determine how their choices will affect the strategic goals. Chris states, "Gordian's development teams drive for results and execute against our product roadmap, but they are equally empowered to 'go.' 'Go' and execute, make decisions, and try new ways to innovate. They would tell you there's a high trust factor between those who do and manage, which has resulted in highly engaged teams (based on feedback from internal surveys)."
Chris' management style places a strong emphasis on talent rewards, which is one additional point to mention here. As previously said, the company's culture values taking on significant challenges; if teams falter, they pivot, adjust, and keep moving ahead. This risky move to take on significant obstacles has benefited the company and produced valuable product capabilities. He continues by saying it's critical that management recognizes people who have taken on such difficulties and succeeded.
Technological Innovation in the Future
Over the previous ten years, there have been major developments in the construction and facilities management industries. The sector has historically lagged in adopting new technologies and digital transformation. Existing players in the sector have seen substantial M&A activity, and fresh investment has given rise to new start-ups.
Despite contributing over 6% of the US GDP, the industry is very inefficient and is hindered by problems with the supply chain and a shortage of skilled workers. These overall inefficiencies have attracted this new market investment, many (Gordian included) aiming to provide an end-to-end solution that connects all stages of the construction and facility management lifecycle together. As Gordian and the market attack this problem, it's clear that providing a fully end-to-end solution is complex, as it not only requires a software workflow solution, but requires data connectivity across the lifecycle that, underpinned by a strong support model as well.
According to Chris, the industry will look and operate differently in the next 5–10 years. He asserts, "There will be a set of end-to-end solutions that provide workflow connectivity across the building lifecycle while 'your' data travels from one stage to the next. This is where Gordian is uniquely positioned. Cost data, which Gordian is the leader in, is a core data asset that spans most stages of the building lifecycle." It is the integration of data, tied to connected software workflows, that will help deliver this end-to-end solution.
Chris also points out that when building owners become more effective at maintaining their facilities it will enhance the lives of those who reside within. It will ultimately be the people who are in schools, hospitals, and workplaces who experience the effects of this shift.
Qualities of Visionary Leaders
Chris believes, "Successful leaders are still learners. Leaders need to be learners not knowers. The more we constantly learn and seek to understand, the more we'll be able to make more informed decisions that best position our teams."
Chris considers the qualities that effective leaders possess while also considering the previous leaders he has had the opportunity to work with. The characteristics shared by all the effective leaders are as follows:
They inspire their teams.
They have a clear direction and vision as to where they are going.
They have clear communication of that vision and provide the steps to get there.
They allow individuals and teams to be successful.
They make decisions – It's critical decisions are made.
They drive a culture of diversity, inclusion and listening.
For emerging leaders, Chris argues that these qualities are common to everybody. He hopes that all leaders have the ambition to achieve in these areas. He believes that future leaders must listen to their teams, help them succeed, trust their judgment, and make decisions based on that judgment.
Visit: www.gordian.com