Steve Jandrich: Renowned Human Resources Expert and Exemplary Leader
The 10 Most Influential HR Executives to Follow in 2023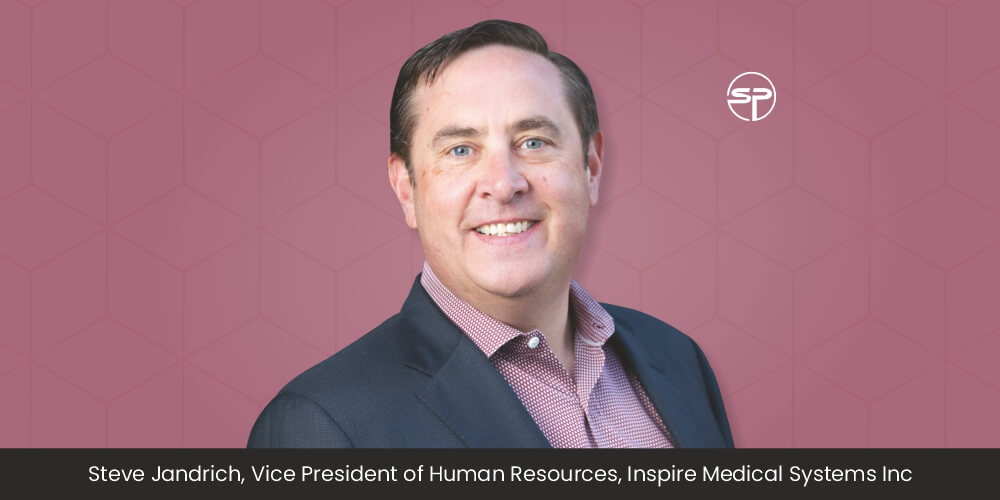 In addition to possessing robust business acumen and analytical skills, an effective HR leader must possess the ability to communicate in high-pressure situations. HR professionals are frequently called upon to mediate highly charged circumstances, and it is their responsibility to be an attentive listener, to ask relevant questions, and to work towards a constructive solution. The HR team must be able to identify, develop, and implement all people-related strategies that will support the company's objectives. To accomplish this, HR leaders must understand the business thoroughly and be able to pinpoint which people strategies will yield the greatest results in achieving those goals. This is a skill that all leaders should strive to cultivate continually.
Steve Jandrich has been the Vice President of Human Resources at Inspire Medical Systems, Inc., since September 2017. He also served as the Chief Compliance Officer for the company from September 2017 to January 2021. Prior to joining Inspire, Steve held the position of Vice President of Human Resources at Link Snacks, Inc., a multinational retail snack producer, from 2015 to September 2017.
From 2001 until April 2015, Steve held various leadership positions at St. Jude Medical. He served as the Vice President of Human Resources, where he led the International Division's human resources and commercial operations functions during a period of rapid development. Steve obtained his B.B.A. and M.B.A. degrees from the University of St. Thomas.
Career Growth
When Steve was younger, he envisioned joining his family's business, Jandrich Floral, which had been owned by his father for 45 years and still operates in Saint Paul, Minnesota. However, since his college did not offer a small business degree, he pursued a degree in human resources from the University of St. Thomas as his plan B. Later in his career, Steve decided to further his education by pursuing a Master of Business Administration degree.
Throughout his career, Steve has worked in various industries such as aerospace, plastic products, and medical technology. While at St. Jude Medical Inc., a multinational cardiovascular and neuromodulation device company that was later acquired by Abbott Laboratories, he led the human resources function within their international business. Steve also worked at Jack Link's, a well-known beef jerky company, before joining Inspire.
Having gained diverse experience and expertise, Steve recognizes that inspire is not a conventional medical device company. Instead, the company is consumer- centric, with a focus on delivering the best patient care and outcomes.
Inspire Medical Systems
Inspire is an innovative neurostimulation therapy for moderate to severe obstructive sleep apnea. It is the first and only FDA-approved implantable treatment. This is a large and rapidly growing market with 2 million new cases per year, and unfortunately, the standard of care is not effective for a significant portion of patients. The company has sustained its momentum by focusing on the patient and striving to ensure the best possible patient outcomes.
To date, over 36,000 patients are living life with Inspire. The device is implanted during a ninety-minute outpatient procedure. Steve states, "We have very strong clinical and health economics data, broad payer coverage, including most commercial plans, Medicare, and Veterans Affairs, and we always put the patient first." He further adds, "This means we are always looking for ways to not only improve our therapy but also help patients in their journey to access treatment, be it through our call centers, our in-house prior authorization support, or our proprietary digital platform SleepSync™."
Leading an Engagement Initiative
Inspire's HR team is spearheading a new employee engagement initiative, called Inspire Insights. This initiative involves a 16-question survey that will be administered to all employees. The primary objective of this engagement initiative is to strengthen the connection between employees and the business, allowing employees to gain clear insights into how their roles contribute to the company's overall patient outcomes.
To support newly promoted leaders, Steve has created a specialized leadership program called "Boss to Coach," designed to equip them with the skills and tools necessary for success in their new roles. In addition, the company's leadership team participates in an annual talent review and succession planning exercise, which helps identify organizational needs, development opportunities, and potential future leaders.
Employee Centric Approach
Inspire has maintained an average employee turnover rate of less than 5% over the past five years, despite increasing its headcount from 90 to over 800 employees during that same period. This growth has provided numerous new career opportunities for Inspire team members, with over 50% of the company's leadership positions being filled through internal promotions.
At Inspire, employees are highly motivated to make a positive impact on the lives of others and are actively involved in charitable giving efforts, such as the American Heart Association, Toys for Tots, and disaster relief efforts. To support their ongoing professional development, Inspire provides tuition reimbursement of up to $10,000 per calendar year. In 2022, approximately 3.5% of employees took advantage of this benefit to advance their education.
Creating an Efficient System
At Inspire,, the patient is always the top priority, and this philosophy aligns perfectly with the values of the Human Resources team.
When Steve established the HR team at Inspire, he had three key goals in mind. First and foremost, the team was tasked with sourcing and acquiring top talent to help drive the company's continued growth. This includes identifying exceptional candidates and creating entry- level positions through college relations programs.
Secondly, they strive to establish a scalable talent acquisition process and implement efficient systems to meet the company's growth targets. Thirdly, they focus on upgrading all people, processes, and systems to ensure they are scalable and can accommodate Inspire's growth trajectory. The team is dedicated to developing and coaching employees, encouraging them to step up and take on leadership roles as Inspire expands.
By promoting from within, Inspire is able to maintain its culture of putting patients first while also ensuring employees feel appreciated, valued, and have opportunities for long-term success within the organization. For many employees, working at Inspire represents a once-in-a-career opportunity, and on their first day, they are often reminded that they are part of something truly special.
Breaking Down the HR Stereotype
It's important to recognize that HR is more than just planning company events such as picnics or holiday parties. There is a common misconception that all HR professionals are outgoing, but this is not always the case.
Steve, for example, is an introvert, and he sees this as a strength in his role as he is able to listen actively and ask insightful questions. The Inspire HR team prioritizes the business and works to understand why they do what they do. This approach allows colleagues to approach them with their needs and see the value of adding to the organization, which is a crucial aspect of HR. Ultimately, the goal is to support the business and enable it to thrive by attracting and retaining top talent.
Establishing a Strong ESG Strategy at the Workplace
Inspire places a strong emphasis on environmental, social, and governance (ESG) initiatives, with a diverse and experienced board of directors overseeing its efforts in this area. The organization's commitment to improving the economic, social, and environmental impacts of its business extends to all stakeholders, including its employees, shareholders, business partners, suppliers, and the communities in which it operates.
The Inspire hiring team actively seeks to increase diversity in its workforce and talent pool, with women comprising 46% of its global employees. The team also invests significantly in leadership and professional development programs to foster a culture of continuous learning. To ensure greater transparency and accountability, it published its first ESG report in December 2022, adopting the SASB Standards for reporting.
Virtues of an HR Leader
Steve believes that a competent HR leader should possess not only strong analytical skills and business acumen, but also the ability to effectively communicate and listen in high-pressure situations. Such situations require a thorough understanding of the business needs, careful attention to the expected outcomes, and the execution of the most efficient strategies. In order to achieve this, one should take a step back, listen, reflect, ask relevant questions, and offer effective solutions to the situation at hand.
Additionally, gaining diverse work experience outside of the HR field can prove to be extremely valuable. By understanding the external customer, the market, technology, and business opportunities, an HR professional can enhance their skill set and become a more effective and well-rounded team player.
Vision as an Individual and Leader
Steve has worked in various industries throughout his career but has found his calling in the medical device space, particularly with Inspire. He is passionate about the company's mission to provide an alternative treatment for patients struggling with sleep apnea and who are seeking alternatives to CPAP.
Steve's goal is to continue contributing to the growth of Inspireand provide career advancement opportunities for the entire HR team. He aims to cultivate a work culture that enables team members to develop and advance their careers while contributing to the company's overall success.
Steve is passionate about being a part of something exceptional and creating a lasting work culture, which is something that everyone can strive for in their careers and personal lives. He feels fortunate to have experienced this at a medical device company that is growing rapidly.
"Working in the medical device industry can sometimes make us forget the impact we have on patients' lives. However, when individuals join a company like Inspire, they quickly realize the significance of their work, making the experience truly special," says Steve.
Website: www.inspiresleep.com