Murad Sahawneh: A Multi-Award-Winning Global HR Thought Leader with Years of Extensive Experience
The 10 Most Influential HR Executives to Follow in 2023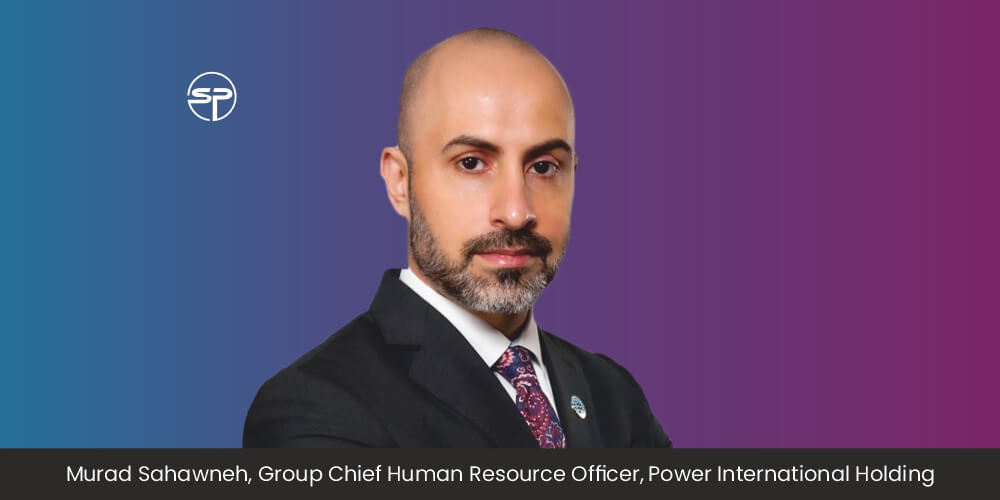 Today, organizations need adaptive and exemplary HR leaders who can effectively respond to the changing needs of the business and its employees, and who are committed to promoting a positive and productive workplace culture. The need for adaptive and exemplary HR leadership arises from the constantly evolving business landscape and the changing needs of employees. In today's rapidly changing world, organizations need leaders who can respond quickly to new challenges and opportunities, and who have the skills and experience to drive positive change. Adaptive and exemplary HR leaders possess the vision, drive, and expertise to create and implement strategies that meet the evolving needs of the organization and its employees, resulting in greater employee engagement, productivity, and overall business success.
Murad Sahawneh, Group Chief Human Resource Officer at Power International Holding, is a highly accomplished senior management executive and globally recognized HR thought leader with over 17 years of experience in all aspects of strategic and digital human resource transformation. He is renowned for transforming HR operating and service delivery models with a focus on customer, digital, and employee experience to create a modern workplace. His numerous top designations from leading HR institutions around the world attest to his commitment to the profession and ongoing professional development.
Passion for Empowering People and Businesses
Murad's passion for both people and organizations and how they intersect to achieve success led to him securing his first job in human resources 17 years ago. He attributes his rapid ascent to leadership positions to his early understanding of the increasing complexity of the HR function and his commitment to acquiring skills in innovation, adaptability, and personal growth.  To maintain credibility and stay current, he pursued an MBA and multiple certifications from leading HR institutions. Over the years, he has gained recognition for his innovative approach to HR, which has been shaped by a focus on customer, digital, and employee experience, earning him worldwide recognition for his lifetime achievements. His expertise in supporting CEOs in realizing their goals has earned him a strong network of senior leaders who seek to collaborate with him again in the future, which is a testament to his worth as a senior HR leader.
Power International Holding
Power International Holding is a diversified conglomerate that operates in 14 different sectors through five groups, including general contracting, healthcare, professional services, tourism, industries & education, agriculture & food industries, real estate development, hotels and resorts & retail, and lifestyle, hospitality, and entertainment. The company is unique in its belief in specialization, with a separate company dedicated to each aspect of the business. The individual businesses within the groups have a strong track record of successfully completing complex projects in a variety of sectors worldwide, resulting in the accumulation of valuable expertise. This extensive experience makes Power International Holding a knowledgeable and trusted corporation in each of its fields, and a go-to choice for clients.
Leading Transformation Across the Group
As the Group CHRO, Murad is responsible for leading the HR strategy and transformation across the conglomerate's 14 sectors, which include a workforce of over 60,000 employees. He works closely with the executive management team to design and implement HR initiatives that support the vision and objectives of the diverse business. Despite facing ongoing challenges, Murad is dedicated to his role as group CHRO and committed to finding innovative solutions to overcome them.
One of the most pressing challenges in HR is employee engagement and retention, which has been a concern for HR leaders for many years. To address this, Murad believes it is important to shift to a culture that prioritizes listening over prescribing and to increase transparency and communication throughout the employee lifecycle. By addressing the low touch points of the employee experience, he aims to improve engagement and retention levels and create a more positive work environment.
Another important challenge that he thinks faces CHROs today is fostering healthy workplace relationships in the new era of hybrid or remote work. This change in the way employees interact has a significant impact on workplace dynamics and requires innovative solutions to promote positive relationships.
Finally, Murad recognizes the need for rapid upskilling and reskilling in the new economy as a growing challenge. The rapid pace of change in the world of work requires a shift away from traditional learning management systems towards AI-powered learning experience solutions. These solutions can predict competency gaps and accommodate the need for quickly evolving skills and career paths, ensuring that employees are equipped with the necessary skills for success in the changing job market.
Making Every Count
Murad believes that a well-planned and executed onboarding strategy is key to a successful integration of new hires into the organization. A positive onboarding experience sets the tone for a productive and long-lasting relationship between the employee and the company.
Through his years of experience, Murad has conducted numerous exit interviews and has found that the one thing people remember the most is their onboarding experience. It is essential to create a welcoming atmosphere and make new hires feel like they are part of the company family, ensuring they understand their role, have access to necessary resources, and get to know their colleagues during the initial stage. These simple yet effective practices lay the foundation for a successful onboarding experience.
He states, "When considering an employee for promotion, desire comes first. You cannot force someone into a leadership position and expect great results!"
In addition to these qualities, Murad also values the ability to multitask and be flexible, as he believes that great leaders must be able to switch gears quickly when necessary. He recognizes that leadership involves the capacity to influence and lead others, as without this, individuals will not be able to effectively guide their teams.
To further support this, Murad and his HR team at Power International Holding have recently implemented a new "role readiness" promotion practice. This algorithm assesses an employee's potential for promotion by evaluating their performance and competencies using a comprehensive and integrated system.
Traits to Observe in Employees
As a highly dynamic group of companies, Power International Holding experiences constant change, so Murad values adaptability in potential hires. He seeks candidates who are capable of taking on new responsibilities and embracing new ways of thinking.
The ability to recognize patterns in diverse data is another critical trait that Murad looks for, as many business decisions at Power International Holding are data-driven. As a major player in the market, the company deals with vast amounts of information and new market conditions. He states, "The ability to see things holistically both inside and outside the organization and communicate them effectively is essential."
Murad is also drawn to candidates who exhibit curiosity, as he believes that a curious person is more likely to venture into uncharted territories and embrace challenges, making them risk takers, avid learners, and highly productive.
Shift in HR Responsibilities
The focus of the HR role has shifted in recent years, moving away from administrative tasks and towards improving the employee experience. HR leaders now have a prominent seat at the strategic table and work alongside management to drive employee engagement, company culture, and major change initiatives. The advancement of technology has played a significant role in this evolution, bringing excitement to what was once considered a dull job.
Organizations that operate with a clear purpose are more likely to generate long-term value, resulting in stronger financial performance, increased productivity, and customer trust. Establishing the identity, operations, and growth plans of a company are crucial for successful change. At Power International Holding, HR professionals come together in a designated social zone to brainstorm and drive transformative initiatives, making HR the driving force behind many projects, including mapping talent to value, creating a more flexible workplace, revolutionizing the employee experience, and upskilling and reskilling employees, as well as developing an HR technology ecosystem. He states, "If you are not able to fire up employees and bring excitement about change and innovation in the workplace, you are locking away a huge competitive potential."
Aligning Mission and Vision
According to Murad, alignment is critical for the success of a business. When the goals, aspirations, and principles of a company are in harmony, both potential customers and employees understand the identity, purpose, and values of the organization.
Power International Holding's culture is derived from its values and guiding principles. They are the lenses through which all decisions are viewed before they are made. The company's people, in turn, are the biggest allies of those values and guiding principles because they take part in its decisions, and that is what makes them feel alive every time they come to the office.
Murad considers himself a transformational leader because most of the time he focuses on success and forward motion through support, inspiration, and steady progress. One of the essential elements he has a passion for is turning things into something new or different—something that delivers value.
When the actions of the company and its employees reflect its values, it promotes alignment and helps team members understand the broader context.
Improvement Needs in HR Leadership
Murad observes that a common issue among HR leaders is their inability to effectively communicate expectations, leading to unclear project outcomes and vague job duties. This creates frustration for team members. Additionally, a lack of accountability hinders team unity, particularly in large organizations. Moreover, poor strategic thinking and poor management of execution are common problems that hinder HR leaders from identifying and implementing practical steps to achieve their goals.
HR leaders should assess their own skills and qualities to determine their proficiency and the significance of the essential qualities required for this crucial role.
Visit: www.powerholding-intl.com