Patty Lang: A Business-Driven HR Leader
The 10 Most Influential HR Executives to Follow in 2023 Vol-2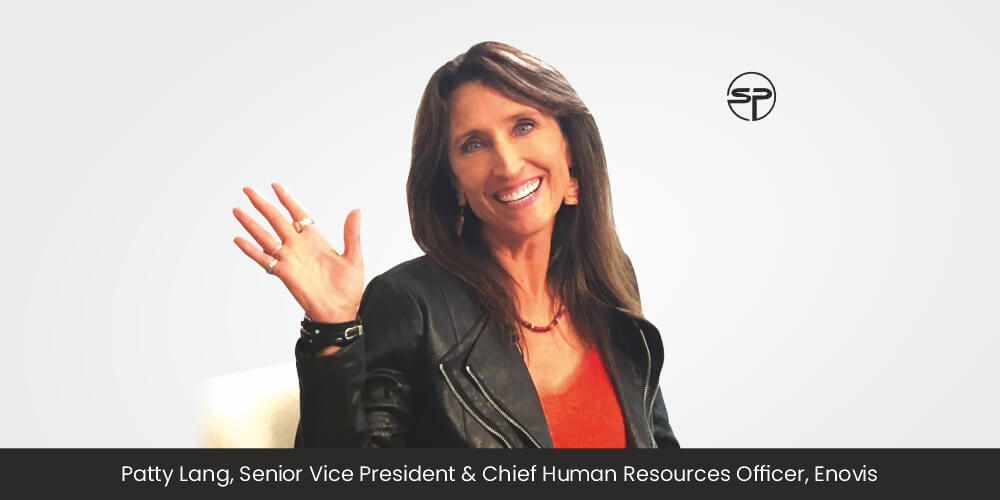 What do you think about when someone mentions Human Resources – or HR? Employee issues? Benefits? Career development? HR is so much more than that and to be a real HR leader, you need more than HR knowledge, you need to be a business leader in the function of HR. That means having an in-depth knowledge of the business you support while effectively navigating the complex and dynamic HR function.
Let's introduce you to one of the most influential and humble business-driven HR leaders in healthcare today and learn what's made her so successful. Meet Senior Vice President and Chief Human Resources Officer at Enovis, Patricia "Patty" Lang.
Patty's Background
Patty has extensive experience in human resources and related fields, particularly in the mergers & acquisitions, effective operating models, executive compensation, and talent management. She has successfully integrated complex multicultural companies and taken on additional responsibilities, in the areas of marketing and branding, outside of the traditional HR role. She served as the Chief People Officer for Diebold Nixdorf, where she managed associate-focused initiatives for more than 24,000 associates. She also held leadership positions at Mylan Pharmaceuticals (now Viatris), CONSOL Energy, Mercer Consulting, Alcoa and Cigna.
Ms. Lang has a business degree with a concentration in Information Technology and Management from Duquesne University, and she holds various certifications in human capital management, mergers and acquisitions, global associate benefits, complex project management, lean manufacturing business systems, and the Toyota Production System. She is currently a member of the American Bath Group Board where she also serves on the Compensation Committee.
Acquiring Expertise as HR Professional
What's the secret to Patty's success? Adapting to change and a passion for taking on new challenges quickly come to mind!
Over the years, Patty gained diverse and extensive experience in varying positions as she moved up the ladder in HR. She worked for several companies in a variety of industries, including industrials, medical device, and technology. Each new position brought new challenges and opportunities to learn and grow as a business minded HR professional.
In her current role at www.enovis.com (previously Colfax), Patty is responsible for leading the HR function for a global medical technology company. Additionally, she led the effort to rename and rebrand the company after successfully spinning off the industrial part of their business so Enovis could focus on medtech. Today, she oversees a global team of HR professionals who are responsible for attracting, developing, and retaining top talent in addition to leading the branding of Enovis via a global brand awareness campaign "Better Is".
Patty is passionate about helping people www.enovis.com/betteris reach their full potential and ensuring that the company's culture is aligned with its business strategy. Throughout her career, she has been an advocate for talent. She believes that a team comprised of individuals from varying backgrounds and experiences create constructive tension from a diversity in thought enabling better business outcomes. Patty is committed to creating an environment where everyone feels valued and included and all opinions are truly heard. She has implemented a variety of initiatives to promote diversity and inclusion, including unconscious bias training and employee resource groups. In fact, in her most recent role as CHRO of Enovis, Patty's company was recognized by Newsweek as one of America's Greatest Workplaces for Diversity in 2023.
Patty's blue-collar upbringing has instilled in her a strong work ethic and a desire to help others succeed. She is committed to making a positive impact in the world.
Enovis – A Medical Technology Leader for Humans and Animals
Patty is currently the CHRO at Enovis. Enovis, which is listed on the New York Stock Exchange under the symbol ENOV, is a rapidly growing medical technology company that designs and delivers everything from surgical implants for total joint arthroplasty, to SaaS workflow solutions, to world-class bracing and supports, and even animal health advancements. You may be familiar with a few of their market-leading brands like DonJoy®, Aircast®, EMPOWR®, MotionMD®, and Companion Animal Health™.
Enovis is creating the future of better care with its clinically differentiated products and solutions, helping healthcare professionals thrive and their patients achieve extraordinary results. The company collaborates with world-renowned healthcare professionals across the globe to ensure more efficient pre-intra-post-op workflows and exceptional success in meeting the health goals of their patients—human and animal.
At Enovis, Patty is responsible for all things related to human resources as well as corporate communications and branding. She has never been the type of person to swim only in her lane and working at Enovis has given her the breadth and opportunity to do a number of projects outside of HR that drive the business forward.
As a leader, Patty always works to lead by example and cares about each team member as an individual. While she has high expectations, she strives to be fair and keep it real with her team.
Creating a Positive Work Place
Enovis' policies are centered around its purpose of Creating Better Together™, which is reinforced by its values and exemplified through teams' behaviors. As part of the company's commitment to continuous improvement – a cornerstone of Enovis' success, policies are not set in stone and adapt as the company evolves this includes policies in HR.
Patty believes that a positive workplace starts from the top and is influenced by the daily actions of every team member and leader. She uses various communication methods and in addition to annual surveys, where warranted, conducts spot surveys to keep a pulse on the organization. She and her team take action based on the results throughout the year. Although it may seem obvious, getting a high survey participation rate (over 93% in Enovis' case for its annual survey) is not always easy, and people are less likely to respond if they feel their input won't be considered. Enovis has created a culture that values listening and responding to feedback. While the company may not always be able to meet everyone's expectations, the team makes sure to provide explanations when necessary. Patty works to ensure that employees feel heard and that their opinions matter, which is crucial to the company's success.
Significance of Building Relationships and Collaboration in Corporate Roles
At the beginning of her career, Patty shifted from a consultant role to a corporate role, which taught her some valuable lessons. As a consultant, she was an internal entrepreneur where she excelled at selling services to keep her team employed, focusing on client satisfaction, billable hours and profitability. Transitioning into a corporate role was a completely different and unique experience for her. Patty initially believed that she could easily implement her ideas since they were cost-effective and logical. But she quickly realized that being part of a bigger more complex team meant that she needed to bring her peers along in the journey. Life within a corporation is a team sport vs an entrepreneurial adventure.
This first entrée into the corporate world had a significant impact on Patty's career, and she learned the importance of building relationships and understanding processes and decision making within the corporate machine. She now humanizes herself early on, acknowledging that she can be direct and has a propensity for action. By asking for guidance on how best to navigate the culture early on, she finds that people are more collaborative and supportive as she works to become a valued member of the team. Patty advises new leaders to listen, care, and be aware that they are part of something bigger, that they must work together, and only then can they achieve their goals.
Emphasizing Cultural Integration- A Great Example of HR Leadership
Patty knew that cultural integration would be crucial for the success of a large merger at a previous company. She began by first acknowledging and respecting the cultural differences between the two companies. She made sure that everyone understood that there was no right or wrong culture, just different ones.
To begin the integration process, she formed cross- functional teams with members from both companies. She encouraged open communication and transparency, and made sure that everyone had a chance to voice their opinions and concerns. She also brought in outside experts who were familiar with geographic culture differences to help with the integration process. These experts provided training sessions and workshops to help leaders understand and appreciate each other's views.
Patty also emphasized the importance of celebrating and leveraging the strengths of both cultures. Believing that cultural integration begins at the top, Patty worked with the leaders at both companies to help them recognize the unique contributions of each of them within the team. There would be no 'winner' between them, only with them. Through her efforts, Patty was able to successfully integrate the two cultures, helping to create a stronger and more effective organization.
Listening and Being in the Moment
Patty has always had a somewhat intertwined work and personal life, but over the years, with support from family and employers, she has been able to create a better balance. Although she continues to make herself available outside of normal work hours, she has learned to work on focusing and being present. It's not just the amount of time, but the quality of the time that has become important. Patty has found that actually listening and being in the moment are the keys to achieving work-life balance.
When it comes to motivation, Patty believes that it comes from within and that you cannot force someone to be genuinely motivated. It is essential to like what you do, believe in yourself, and have confidence in your abilities. Patty is naturally motivated to win. In her free time, she stays sharp by practicing problem-solving and continuing to learn every day.
'Learn and Observe the Environment'
Patty recommends HR professionals broaden their understanding of the field by learning about it from various perspectives, including the compliance, finance, and legal implications. She advises diving deep into the businesses they support and enable, by getting out into the field and observing what employees do and the customers they support.
Knowing the company's products and being present and engaged in business meetings are also essential. HR professionals should aim to become business leaders in their roles, leading the way by understanding the company's operations and contributing to its growth and success.
Thanks Patty! To keep up with Patty, please connect with her on LinkedIn.
https://www.linkedin.com/in/patty-lang-556b441b/
website: https://enovis.com/