Galit Ventura-Rozen: Empowering Women to Achieve Their Professional Goals
The 10 Most Influential Women Leaders to Watch, 2023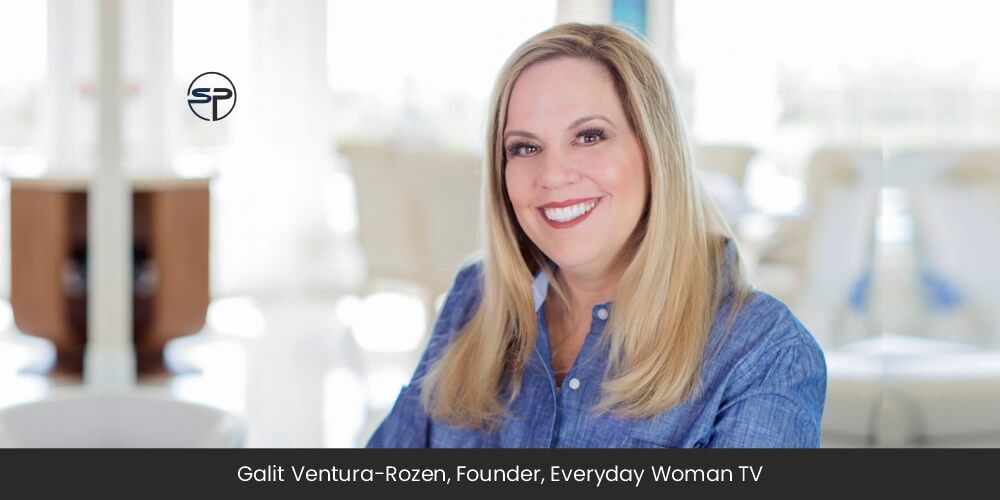 Every woman can be a world changer when they are true to their purpose and live their life with meaning. Building your own empire as a woman can be tricky, especially when trying to thrive in a male-dominated industry. Knowing your Why, being a self-starter and finding your motivation helps. 
Motivation must come from within you, but it does not mean going through the journey alone. Entrepreneur and Professional speaker Galit Ventura-Rozen founded Everyday Woman to build a collaborative space for business-minded women who want to do what they love and improve every aspect of their lives in the process.
Galit's Personal Journey 
Galit Ventura-Rozen is a business success expert, professional speaker, author, mentor, and co-founder of Everyday Woman. She is an award-winning entrepreneur focusing on helping women make a positive, profitable difference in their personal and professional lives. Like many business professionals, her story started with a meaningful search for purpose and passion.
Galit got married at 23 and already had her three children by age 31. She was enjoying a picture-perfect family and social life while running her own commercial real estate company. But she yearned for something more. It turns out, the missing puzzle piece in her life is a commitment to serve others, so she strived further to empower like-minded women and cultivate more meaning in her career.
In 2016, Galit earned a Master's degree in marriage and family therapy. Why would she go back to school at the age of 37 to change careers when she already had a thriving commercial real estate career? She was exploring what her life purpose was and thought it was to be a therapist. Once she practiced part time for a while after graduation she realized she loved helping people through therapy but wanted to combine her love for business with her love of helping others.
This is how her first book came about, The Successful Woman's Mindset.  She realized after 25 years of self-motivating, starting her own business, thriving in a male dominated industry she self-taught herself how to have the mindset to succeed in just about any situation.  Combine that with her learning of the different therapy models and how to overcome obstacles, self-limited beliefs, negative thoughts and more and she found the perfect combination.
For What?  To show women and many men how to STOP allowing their mindset to stop them from the success and life they desired!!!
This turned into Galit becoming a professional speaker, regularly sharing her business, leadership, marketing, and growth mindset expertise with audiences in person all over the United States and Canada and virtually all over the world!!!.
Galit provides public speaking mentoring sessions to guide women towards realizing their potential and earning money while speaking professionally.  
The Rise of the Everyday Woman Community  
Galit and her friend, Angela Giles, founded Everyday Woman in March 2020 to help women seek motivation and a way to make money from home amid isolation and uncertainty. As the world reeled from the pandemic, they found a way to help women connect and inspire each other on a new level virtually from all over the world.
Women through the Everyday Woman Community were provided with the tools needed to run their businesses successfully and support their families. What started as a simple Facebook Group now has more than 13,000 members and paved the way for several online conferences, workshops, retreats and even the first Everyday Woman Awards where over 35 women were recognized for their achievements in their professions and businesses.
Galit and her team have created a safe space for women to evolve professionally, spiritually, and personally. The number one ask of the women that want to be a part of the community is to show them how to get more clients.
Moreover, women in numerous industries still face career challenges due to the standards set by society. These difficulties prevent them from achieving progress and a healthy work-life balance. Galit wants to change that by championing diversity and helping them nurture and highlight their strengths.
For her, women should make what they are worth and live their best lives. Everyday Woman's efforts raised funds for One Woman and the American Nurses Foundation, which helps female entrepreneurs in third-world countries. Furthermore, they established the Be More Visible Membership and put together four books with over 150 authors, giving women the opportunity to tell their stories.
Galit and Angela realized there was a need for a platform that would show the different women as experts in their profession/business.  This is how Everyday Woman TV was born.   
Everyday Woman TV  
Everyday Woman started as a mere idea that eventually came to fruition, thanks to the wonder of the digital landscape. In November 2021, they took further advantage of technology to launch a new venture and reach a wider group of female professionals. 
Everyday Woman T.V., a television network dedicated to inspiring more women through shows hosted by exceptional female entrepreneurs and professionals was launched. Through television shows, viewers can have the education for free to grow their brands, widen their network, and strengthen their support system.  
There is content for every woman who is looking for support and encouragement, from shows on mental health care and meditation to personal finance and visibility marketing and everything in between. Galit herself hosts a show, The Successful Woman's TV Show, where she interviews women from all over the world that share tips for anything from business to mindset so women watching can learn from them and unlock their own successes.  
It's like having a mentor, role model, and confidant on the screen, helping them live a happier, more successful life. Everyday Woman TV shows can be streamed on 19 platforms, including Amazon Fire T.V., Roku, Android T.V., and Apple T.V. 
Women Supporting Women 
Galit often says that as women we have enough working against us in the world, what if every woman chose to mentor, uplift, share her expertise with other women.  What a beautiful world it would be.  She believes in this so much that is why she has worked with her business partner to build a community of women that do just that.
Website: www.everydaywoman.me