Joyce Durst: Pioneering the Path to Technological Success
The 10 Most Influential Women Leading the Business in 2023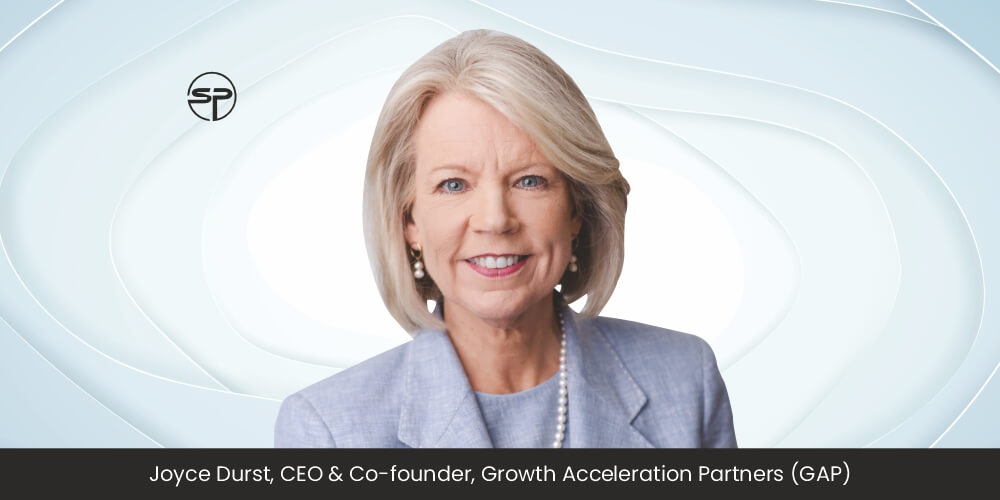 In the bustling tech hub of Austin, Texas, a remarkable leader is spearheading a technological revolution. Meet Joyce Durst, the CEO and co-founder of Growth Acceleration Partners (GAP), a prominent strategic technology solutions partner. With an illustrious career spanning over three decades in the software and technology industry, Joyce combines her engineering prowess with innate leadership skills to drive GAP's unrivaled success.  
From an early age, Joyce displayed an unwavering passion for technology. Equipped with a sharp intellect and insatiable curiosity, she embarked on a journey that would forever shape her destiny. After graduating from Texas A&M University with honors as an engineer, she quickly found herself at the forefront of innovation, navigating the rapidly evolving landscape of software and technology.  
Joyce's profound understanding of the industry, coupled with her visionary mindset, led her to co-found GAP. With a laser focus on strategic technology solutions, GAP has emerged as a trailblazer in the field, aiding numerous enterprises in achieving their growth objectives. Under Joyce's stewardship, GAP has flourished, expanding its clientele and forging strategic partnerships with industry leaders.   
However, Joyce's leadership extends far beyond her executive role. Her innate ability to inspire and motivate individuals has cultivated a dynamic company culture at GAP. She firmly believes in empowering her team, fostering an environment that encourages creativity, collaboration, and innovation. This unique approach has propelled GAP's reputation as a sought-after workplace and has attracted top talent from Latin America. 
Overcoming Challenges in Pursuit of Engineering 
Joyce's early upbringing was marked by considerable chaos. Within her family, she stood alone in her struggle to make ends meet. However, it was within the realm of education where she discovered her true success. School opened doors to a world of infinite possibilities, not limited to mathematics and science, but encompassing a diverse range of books that captivated her. Learning became her passion, but she excelled particularly in the realms of math and science.  
Regardless of the prevailing notions that girls were ill-suited for math and destined for failure, Joyce staunchly refused to accept such beliefs. The sheer joy and satisfaction she derived from problem-solving and employing her analytical prowess instilled in her, from a tender age, the conviction that she would become a scientist. As she progressed through grade school, however, her aspirations shifted, and she gravitated toward engineering. The allure of participating in the creation of solutions and the construction of meaningful projects ignited her desire to pursue engineering in college. To her surprise, the scarcity of women pursuing engineering became evident during her initial physics class, where only seven out of 250 students were female. Nevertheless, Joyce remained steadfast in her determination, recognizing that engineering held the most excitement and fulfillment for her. 
Joyce's Fulfilling Start at IBM 
After graduating from college, Joyce was hired by IBM, a company known for recruiting graduates from various fields, including engineering. However, her role at IBM went beyond traditional engineering work. She was selected to be a software consultant, which sparked her second passion. While engineering had been her initial focus, she discovered immense fulfillment in being part of the customer solution team. Interacting with clients on a daily basis, she delved into their challenges and devised strategies to help them harness technology for advancing their business objectives. This experience felt like pure magic to her, as she realized she was being paid to do something she loved. IBM, particularly during that era, made significant investments in the education of new employees. 
Throughout her entire first year at the company, Joyce underwent extensive training, where IBM imparted valuable lessons on professionalism, customer relations, technology utilization, as well as presentation and communication skills. Starting her career at IBM, Joyce couldn't have imagined a better place to begin her professional journey. 
The Journey of Learning and Growth 
In the late '90s, Joyce achieved a remarkable feat by rising to the executive ranks at a $1 billion enterprise software company, making her one of the few women to do so. Following this accomplishment, she embarked on a new journey as the CEO of a venture-backed startup, where her exceptional talent for building teams was put to the ultimate test. 
During her tenure as CEO, Joyce displayed remarkable resilience and skill in steering the company through the challenging period of the 2001 tech bust. Despite the turbulent market conditions, she secured over $21 million in funding over a span of six years and ultimately orchestrated a successful sale of the company. 
After departing from her role as the general manager of a $250 million division within a large public software company, Joyce ventured into the security software industry, assuming the position of CEO at a venture-backed startup called BMC. Notably, her tenure at BMC spanned an impressive 12 years. 
Despite her previous experience managing a sizable organization with a significant budget and profit and loss responsibilities, she quickly realized she had much to learn as a first-time CEO.  
Transitioning into this new role, Joyce made numerous mistakes, experiencing the full gamut of challenges and setbacks a leader can face. She gained invaluable knowledge through trial and error, bearing the scars of her missteps. One of the critical lessons she learned was the art of raising funds for the startup, although she struggled to assemble the right individuals for the board and navigate the complexities of various investor classes working together. Additionally, she encountered difficulties in assembling the right team within the company and placing them in the appropriate roles in a timely manner. Throughout this period, Joyce also weathered the market turmoil resulting from the 9/11 attacks, guiding the company successfully through a bankruptcy process. 
However, despite these challenges, after six years, the company was successfulenough to be sold. The lessons learned during her tenure as a startup CEO laid the foundation for her present success as the head of Growth Acceleration Partners. Joyce attributes much of her growth and achievements to the valuable insights gained from the hard knocks, trials, failures, and the determination to persevere and try again. While the experience was rewarding, she emphasizes the importance of being prepared to embark on a continuous learning journey in such a role. 
The Motivation Behind Starting Growth Acceleration Partners  
What truly motivated Joyce to start Growth Acceleration Partners (GAP) 16 years ago was the shared vision she had with her co-founder Brett Bachman. They were driven by a strong value system focused on two key aspects: fostering growth and inspiration within the company, and creating the best possible environment for employees. Their goal was to establish an environment so extraordinary, employees would want to stay with the company for life.  
Additionally, they aimed to cultivate long-term relationships with customers, focusing on understanding their business objectives and supporting their digital transformation journey. By delivering exceptional value and success to their customers, they aspired to become the preferred technology partner for any future endeavors. The desire for greater control over the company's values, processes, and agile methodologies was another driving factor behind their decision to start GAP. 
In the early stages of GAP, the duo took various measures to sustain the company and generate revenue. Looking back, they find it amusing how they tackled numerous diverse services in those initial years. To keep the company afloat, they would agree to any request from customers, whether it involved technology, marketing and consulting, sales compensation plans, SEO, or even accounting. They were determined to generate enough revenue to eventually hire software engineers who could focus on their primary objective: building software and data engineering solutions. Now, after 16 years of operation, GAP continues to thrive with a more fine-tuned focus.  
As new employees are onboarded, the company organizes an internal trivia contest to educate GAP employees (aka GAPsters) about the company's history, locations, customers, and service offerings over the years. One of the trivia questions challenges participants to identify which service was not offered by GAP during its early years, given that they were open to fulfilling any customer request to sustain the business. This showcases the remarkable journey of GAP, starting from its versatile beginnings to becoming a specialized provider of software and data engineering solutions. 
Values-Driven Culture 
Growth Acceleration Partners (GAP) is a values-driven organization that prioritizes people over profits. With over 650 employees, GAP's core values are deeply ingrained in its culture, summarized by the acronym "GAP." 
The "G" represents striving for greatness, emphasizing the pursuit of excellence in all operations. 
The "A" signifies agility, embracing change, innovation, and shared leadership across all teams. 
The most significant value for GAP is captured by the letter "P," which stands for investing in people. This value highlights the company's commitment to employee growth, development, and well-being through educational opportunities, growth prospects, wellness programs, and English classes for GAPsters in LatAm. 
These values shape how GAP interacts with its employees, customers, and the community. The company provides exceptional service to customers, focusing on their success. Additionally, GAP strives to make a positive impact in the communities it operates in, uplifting and strengthening them. 
By upholding these values, GAP fosters a culture of greatness, agility, and investment in people, both internally and in its relationships with customers and communities. 
Insightful Perspective on Women's Challenges and Empowerment 
Joyce identifies two significant challenges women often face. The first challenge is some women often don't think big enough. To overcome this, Joyce advises women to always think bigger and imagine what is possible, as it can have a tremendous impact on their ability to achieve success. Joyce's own experience in a CEO peer networking group for women encouraged her to set more ambitious goals and expand her beliefs about what was achievable. By removing self-imposed barriers, women can unlock their potential for rapid growth and success. 
The second challenge women face is the lack of access to venture capital funding. Despite women-led companies demonstrating their ability to grow faster, become more profitable, and require less capital, they still receive only a small percentage of venture capital dollars. Joyce believes this needs to change and suggests women actively seek positions on boards, become investors, and take leadership roles at private equity and venture capital firms. By increasing women's representation in these areas, more funding can be directed toward women-led companies, enabling them to achieve significant growth. 
In promoting and supporting women in leadership roles, Joyce emphasizes the importance of peer support networks and organizations. She mentions her involvement in groups such as the Women's President's Organization, High Power, and Springboard. These organizations provide a space for women at similar levels of leadership to connect, learn from each other's experiences, and offer mentorship. Joyce believes these networks and organizations can be instrumental in overcoming challenges and accelerating growth. She encourages every woman to find a peer support network to be a part of, expanding their learning network to seek guidance when facing obstacles and share their experiences to uplift others. 
Leading Through Crisis 
Joyce shares her experience of leading her team through the challenges posed by the COVID-19 pandemic. She admits she did not anticipate such a crisis, but quickly made a firm commitment to protect the jobs of all GAP employee. She announced to the company that layoffs would not occur, even though she was uncertain about how they would navigate the situation or the sacrifices that might be required. 
Joyce reflects on the unity and resilience displayed by the entire team during this period. Despite the financial and health challenges faced by GAPsters and their families, everyone came together with a shared mission to deliver value to customers and support one another. The company made adjustments to control spending, but they did not resort to laying off any employees. Joyce credits this experience as a valuable lesson in leadership, realizing that as a leader, she has a responsibility to bear stress and uncertainty. But by fostering a sense of shared leadership and unity, people can come together and support each other through difficult times. 
This experience further strengthened Joyce's belief in the importance of protecting and supporting employees, even in challenging circumstances. By demonstrating a commitment to the well-being of her team, and fostering a culture of unity and shared responsibility, she witnessed the remarkable dedication and willingness of employees to help one another. This experience deepened her understanding of effective leadership and the power of a united team in overcoming challenges together. 
Prioritizing Values and People 
Joyce advises aspiring entrepreneurs and professionals to prioritize understanding their values and purpose. These should serve as their guiding principles and act as a North Star in their daily endeavors. By focusing on creating growth opportunities for their team members, allowing them to pursue their dreams and aspirations, entrepreneurs can unlock innovation and bring immense value to their customers. 
While it is crucial to listen to the needs of customers and stay ahead of market demands, Joyce emphasizes that the true currency and value of a company lie in its people. Building a strong and valuable company entails recognizing the importance of the individuals who contribute to its success. By nurturing and investing in the growth and well-being of employees, entrepreneurs can simultaneously increase the value of their company. 
Importance of Continuous Learning for Entrepreneurs 
Joyce emphasizes the importance of continuous learning for entrepreneurs. She advises them to read as much as possible, explore books, listen to podcasts, and attend conferences. Being a continual learner is crucial for CEOs and entrepreneurs, as it allows them to stay informed about technology trends, market dynamics, and global affairs impacting their businesses. By being aware of these signals, entrepreneurs can develop effective strategies and scenarios for success. 
Joyce mentions a few books that have had a significant impact on her thinking. "Drive" by Daniel Pink prompted her to reevaluate her approach to employee motivation, while Marcus Buckingham's "Love Plus Work" helped her understand the importance of allowing employees to focus on the aspects they love about their jobs. She also mentions "Peak Performance," a book she is currently reading, which explores neuroscience and offers insights on maximizing learning and brain productivity regardless of age or industry. 
Remarkable Achievement 
Recently, Joyce achieved a significant recognition in her professional journey as she was named an Entrepreneur of The Year® 2023 Gulf South Award winner by Ernst & Young LLP (EY US). This prestigious accolade represented one of the most esteemed and competitive honors for entrepreneurs and leaders of high-growth companies. 
Joyce's recognition as an Entrepreneur Of The Year award winner speaks volumes about her remarkable achievements and contributions. It highlights her outstanding ability to foster growth and drive innovation in her company, Growth Acceleration Partners. Through her visionary leadership, Joyce has not only achieved impressive results but has also made a lasting impact on the industry. 
Future Growth and Expansion 
Joyce is highly enthusiastic about the future growth and expansion of Growth Acceleration Partners. She emphasizes the company's commitment to delivering on its vision and providing an extensive but focused range of services and offerings to its customers. In recent years, GAP has focused on delivering digital transformation advisory services, assisting customers with their technology strategies, cloud migration, data analytics platforms, and integrating AI into their solutions. The company has experienced substantial growth in its software and data engineering services, enabling them to build innovative solutions for clients. 
Furthermore, GAP recently completed an acquisition of Mobilize, a company that possesses patented proprietary technology for automating the transformation of legacy code into modern programming languages such as .NET, React, or Java. This acquisition enhances GAP's capabilities and enables them to offer best practices and resources to assist customers in leveraging technology to accelerate their business operations. 
Looking ahead, Joyce anticipates significant revenue growth for GAP in the coming years. The company may also explore additional acquisitions to further expand its portfolio. However, the primary focus remains on understanding and meeting the needs of customers, helping them achieve faster growth through technology solutions. 
Website: growthaccelerationpartners.com