Manuel Peña: A Creative Architect and Proficient Business Leader with Successful National Business Experience
The 10 Most Inspiring Business Leaders to Follow in 2022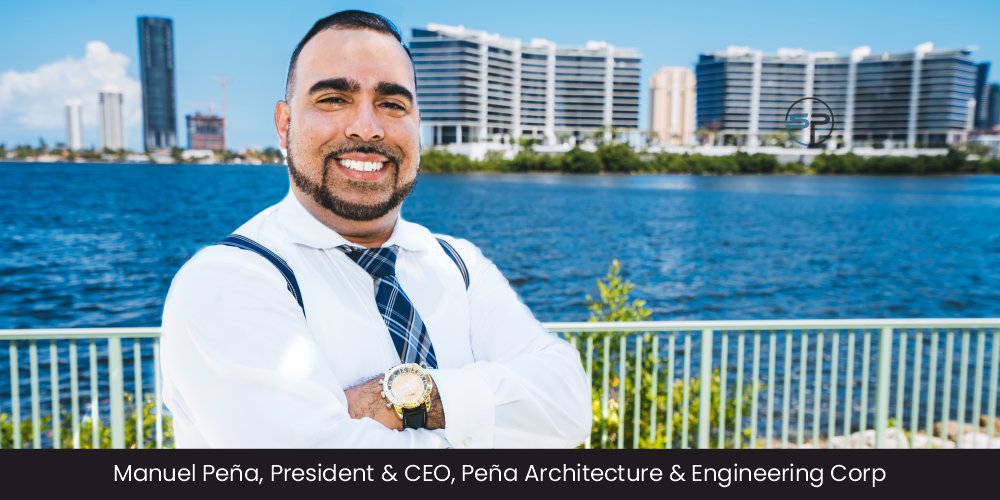 "Beautiful, luxurious, and in our landscape, residential homes, commercials, high-rise buildings, industrial and mixed-used development projects that make you comfortable living while protecting the environment."
The COVID-19 epidemic has defied practically every economic forecast from the start. Stores, restaurants, and businesses emptied out in record time in March 2020. The stock market plummeted, and employment vanished almost overnight. However, the protracted and terrible economic decline that many Americans expected did not occur. The economy, as well as the real estate market, rebounded at record speed. By early 2022, output might be back to pre-COVID-19 levels, and jobs could be back to pre-COVID-19 levels.
Despite the fact that the pandemic has struck every state and city, its influence on US property markets and industries presently differs dramatically from that of the last recovery. Because of this discrepancy, other industries, such as industrial properties, have scarcely slowed as a spike in online spending has fueled tenant demand. The same can be said for multifamily buildings, with tenant demand continuing to rise and rents returning to record highs across most of the country.
Peña Architecture & Engineering Corp., led by Manuel Peña, is a group of highly experienced and talented individuals devoted to providing exceptional design and planning services for customers' construction development projects all over the world. The firm specializes in landscaping, single-family, multi-family, high rises, custom houses, commercial, industrial, and mixed-use developments. He works with many successful businesses and successful entrepreneurs throughout the world. The firm mixes elegance and simplicity. It also generates personal environments that are both demanding and interesting, such as when color, texture, light, and proportions are combined and organized to create the ideal manifestation of a client's vision.
Mr. Peña is a worldwide real estate developer, philanthropist, and investor from the United States. He is one of the most successful billionaire company entrepreneurs under the age of 40 from the city of Aventura in Miami, Florida. He has developed ties with a wide range of corporate rich clientele from throughout the country and has begun to create international links from the United States. Peña is planning a trip to Dubai and the Bahamas for a future major building project. Peña is a well-organized, creative architect with national commercial expertise in the design and construction industries. He's shown aptitude for architectural design, project and construction management, office and team building, client interactions, and public speaking.
Manuel Peña has had to acquire a lot of patience and understanding with many different clients and their design demands since becoming the President of Peña Architecture and Engineering Corp. He is in the people business, which necessitates him dealing with a large number of requests to fulfill. They look to Manuel to make their visions a reality and bring them to life.
A Born Architecture  
Manuel went to architectural school, although he was attracted to architecture from his middle and high school years. He admired Frank Lloyd Wright's work and was able to create floor plans for his other businesses. He recalls, "I was always in the family businesses. My father was grooming me for greatness to become a successful businessman for the future."
At first, Manuel was learning how to be a good leader. He was a regular attendee at board meetings. He realized that he needed to interact with his co-workers and make sure they were on the same page. He states, "In order to achieve in life, you must be a people person. To have a successful corporation, you need great employees to build your empire! In the future present time, I'm the President of one of many successful businesses in the U.S. The key is to be humble in life and God will make you known to the world."
A Wide View on Work, Life and Leadership
Manuel's methods for ensuring a healthy work-life balance for his staff and himself include going over his check list with them first thing in the morning to ensure order in the workplace for incoming and exiting tasks. He says, "In that, we can control how our atmosphere in the workplace will be. That's how we control the work life for the employees and myself."
As a leader, Manuel believes in authenticity and suggests you don't take on too many projects or make promises you can't deliver. He asserts, "Do not put stress on the staff and pressure on yourself that you don't need on yourself." He further adds, "Be honest, and to be genuine, always be transparent with people that's how you earn loyalty and faithful committed people by doing good onto others and it will reflect onto you in the world."
Under Manuel's leadership, the team learns how to work as a family and also how to have patience with each other. He says, "It's not easy, but we come together as one and everyone has an important task to compete for to make the project designs perfect."
Engaging and Spectacular Work
Manuel enjoys surprising his clients with something unexpected. Most of the time, he encounters new issues, which he overcomes with the help of his team's designs. He constantly coordinates with his engineers and architects, and after this is completed, the team builds personal settings for the projects that are demanding yet engaging and stunning.
According to Manuel, the team's goal is to create and design progressive development initiatives. Manuel and his crew use digitalization to exhibit realization and realistic representations in high definition. He feels that bringing the design to life in front of the client's eyes, demonstrating the future before it is built and completed in real life, is important. In the age of digitization, it creates several opportunities and generates new revenue and value for businesses.
Creating a Legacy
Manuel's strategy is to communicate with the owners about their design project's concept. He believes that communication is essential for gaining a clear grasp of what people are envisioning in their minds and bringing it to life.
His long-term goal for the company is to become a worldwide leader in the architectural industry in the United States. He travels the world, meeting with world leaders and successful business entrepreneurs. He says, "Being able to design spectacular, amazing architecture and to have an impact on people's lives through architectural ways of the future."
Quote: Ideas begin here.
Website: paecorporation.com