Maree Moscati: A Renowned Leader with Extensive Experience in Financial Services and Technology
The 10 Most Inspiring CEOs in Business Vol-1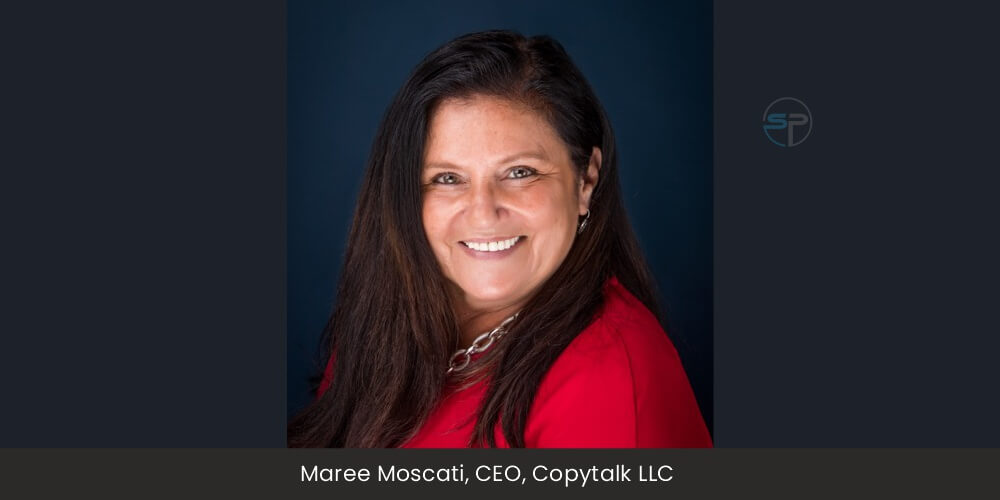 A more innovative and adaptable culture is the outcome of developing individuals to be truly capable of leading change, which also uncovers an untapped organizational potential. Maree Moscati, CEO at Copytalk LLC, considers that an essential aspect of any collective culture – including corporations – is respecting, valuing, and rewarding the contributions of the individuals and teams who make up that collective. Her leadership approach includes experiential and apprentice-style learning.
Worked in the financial services industry for over 30 years of her career, Ms. Moscati was a successful financial advisor before joining Copytalk as CEO. She then rose through the ranks to become a Regional Director and President of Brokerage and Trust within an institution's Wealth Management Division.
Ms. Moscati is a business graduate from New York City's Laboratory Institute and completed all required courses for certification as a financial planner at Florida State University. She was licensed in the FINRA Series 24, 7, and 63.
Joining Copytalk
Ms. Moscati feels that fintech chose her as she shared that when the firm first approached her, she was not interested. Her passion always lay in Financial Services. She loves the industry. However, after several conversations and meetings, she was intrigued. She challenged herself and recognized that while she was not a "techie," she knew the business. Copytalk presented her with an opportunity to impact the Financial Services industry in a manner and with a unique and impeccable service. She mentions, "I've learned a lot over my 10 year tenure here and continue to learn each and every day."
The Firm
Copytalk was founded in 2001 and headquartered in Sarasota, Fl. The firm is the premier transcription service engineered to meet the rigorous privacy and accuracy standards and do it efficiently.
Copytalk responds to the need for a secure process for mobile dictation, particularly for heavily regulated industries. It makes it easy to document notes and adhere to compliance rules and regulations, especially in the Financial Services Industry where PHI & PII are critical components.
Coming from the Financial Services Industry, Ms. Moscati feels proud to lead a firm that allows the clients to be efficient and effective in documenting the "why". The clients feel secure that the firm's security and privacy protocols are second to none in the industry. As Copytalk is the only mobile transcription firm with the Shared Assessments organization, which sets the standards for adherence to compliance mandates, it offers cutting-edge security protocols.
Copytalk employs only U.S.-based transcriptionists who meet stringent skill set and clears an extensive background check. Because of Ms. Moscati's background in wealth management, the firm is focused on regulatory and compliance mandates surrounding her clientele.
In 2022, Silicon Review Named Copytalk to its 50 Leading Companies and received Bank Insurance Securities Association Innovative Technology Award for Four Consecutive Years 2018-2021. It has been Finalist in Family Wealth Report Awards – Compliance Documentation 2021.
Being the CEO
At Copytalk, Ms. Moscati is happiest while speaking with clients and potential clients. She feels thrilled when she meets with a firm. She is delighted when she meets with new clients and they tell her how they appreciate Copytalk's services with a flawless SEC or FINRA audit or when one of the firm's subscribers writes to her to praise Copytalk's service for helping them not only in time-saving efficiencies but also because they attracted a sizable new client as a result of taking extensive notes. "The client believed the advisor listened to them and captured all the critically important aspects of what they were looking to accomplish—not to mention; they remembered their grandson's birth with a beautiful note and gift," explains Ms. Moscati.
According to Ms. Moscati, a CEO's responsibilities are long and vast. She says, "We are responsible for every aspect of the business and, of course, the firm's profitability. But what we take the most pride in is our culture and diversity." There are some team members who have been with the firm for a very long time, and Ms. Moscati works hard to promote Copytalk as one of the greatest companies to work for. She bases her daily work decisions on empowering colleagues to contribute in both creative and practical ways.
Why Choose Copytalk?
Copytalk was born as a general-use mobile dictation solution that naturally took root in the advisor sector, where it's ease and speed increased productivity and improved compliance. Given that synergy, the management quickly recognized the absence of secure processes for mobile dictation in heavily-regulated industries and rose to meet that need. Copytalk makes it easy to document notes and adhere to compliance rules and regulations, especially in the Financial Services Industry, where PHI & PII are critical components. Ms. Moscati states, "It allows our clients to be efficient, be more effective in documenting the "why," and feel confident that our security and privacy protocols are second to none in the industry. Also, sets the standards for adherence to compliance mandates."
The firm provides its services through phone, through its mobile applications, and as an integrated web control. The service is used often by clients for free-form dictation. However, the firm also gives clients the option to complete forms or send structured data to their back-end systems or outside applications.
For podcasters, media, video, audio files, educators, authors, and producers, Copytalk also offers transcription services. The firm can provide closed captioning on demand and English transcripts in 100 different languages through one of its partners.
Building a Culture of Innovation
Ms. Moscati feels that there is always room for improvement in documentation. The extent to which speech data is still underutilized as an efficient approach to assist enterprises in capturing information is surprising. The Copytalk team is always asking its clients what they can do better, differently, or more, and they LISTEN to all they have to say. Industry-proven, game-changing disruptive innovations, such as the company's patent-pending technology, Copytalker, and its Dictation Guides, have significantly added value to the customers it serves.
Building a culture of creativity is a systematic process at Copytalk. It has a fantastic team of developers here, so they get together regularly and use a purposeful approach to creative thinking to deploy programming sensitive to the demands of the sectors the business services.
View on Success
Ms. Moscati sees her tenacity, willingness to take a risk, and her drive to be the best she can be but most of all, her commitment to serve are the pillars of her success. She asserts, "I truly have to believe in the firm I represent, the offerings we provide and have the pride and servant attitude to deliver impeccable service – always!" She always values people, ethics and respect.
To continue Copytalk's success and authenticity, Ms. Moscati aspires the firm to be the leading dictation service in the most prominent financial services and media areas. She hopes to continue providing innovative technologies and expand the firm from its current horizons.
Advice to all Future Leaders
As an experienced business leader, Ms. Moscati shares that every leader should be willing to take a chance, listen, learn, and ask questions. She further suggests that you have a childlike inquisitive nature and, most of all, get out of your head and way and believe in yourself.
Her advice on leadership is to treat your people well, give them the freedom and space for creativity, and show them how valuable their contributions are. She adds that empowering team and colleagues to contribute and have "think – tanks" where all thoughts and ideas are shared for a better experience, both internally and externally that's a model for autonomous innovation.
Accolades and Accomplishments for being Exceptional
"Ten Best CEO's of 2021" by Industry Era Magazine
Inspirational Industry Leader to Watch in 2022 by Tycoon Magazine
Top Tech Leader by MYTECHMAGAZINE – 2021
Bank Insurance Securities Association Career Achievement Award – 2020
Bank Insurance Securities Association – Hall of Fame – 2021
Website: www.copytalk.com