Kimberly Carney: Creating a Scalable Solution to Help Emerging and Established Fashion Designers
The 10 Most Inspiring Women Leaders to Follow in 2022 Vol-5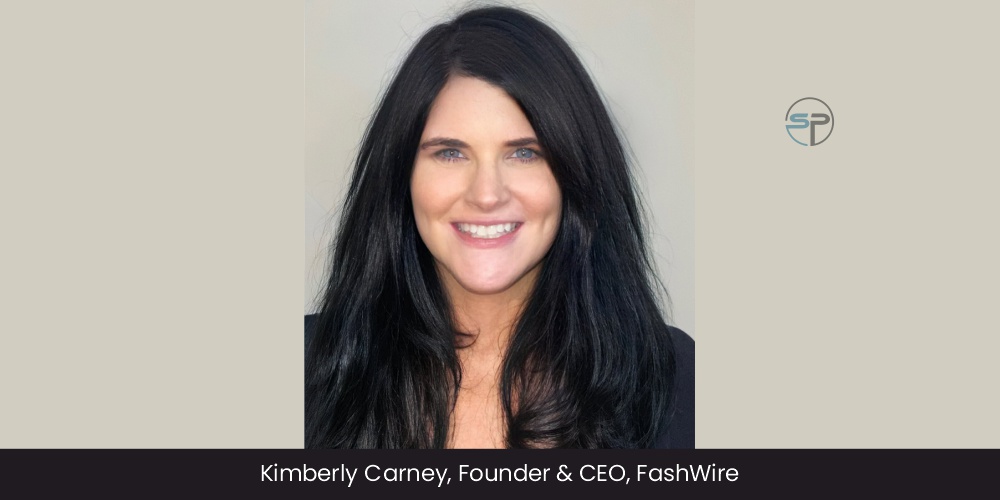 Today, marketers must adapt and establish channels to bridge the gap between the brand and the consumer in this digital era, when technology has made a significant difference in building relationships.
Brands' ability to fully engage with consumers across all platforms is increasing as the digital age progresses. Similarly, the chance of making mistakes with contact methods and wasting money is rising. Consumers and marketers are grappling with a seemingly limitless supply of new technology, from smartphones and tablets to dynamic material on billboards and interactive TV advertisements. As a result, people's buying habits and interactions with brands are constantly shifting, and these changes will only accelerate as media fragmentation continues.
Kimberly Carney's passion to link technology, customers, and brands was the impetus for the creation of FashWire. Kimberly also established GlossWire, a fashion platform that assists participating brands in better connecting with and meeting consumer demand while improving profitability.
In 2016, she saw potential in the fashion industry to link fashion designers and customers via the use of technology in a creative, low-cost, meaningful, and scalable manner. "We launched in 2018 with a Google Partnership, landing in the top charts of the App Store," says Kimberly.
She is in charge of developing and implementing company's vision and purpose. She oversees the company's full resources and operations, including delegating and guiding agendas, driving profitability, managing our organizational structure, and overall strategy.
Kimberly is a positive person who can hold a conversation and has a quick wit, both professionally and personally. She feels fortunate to have two wonderful children, the best friends, and an outstanding work team.
Kimberly spreads herself thin as a single mother and a businesswoman, but she does her best to nurture the most vital connections. She asserts, "I love being able to lead and learn from an incredibly talented team and executive level Advisory Board. Cultivating my vision with people who share my passion and truly believe in what we are doing is very rewarding.
Kimberly believes in making mistakes, but also in learning the lesson because of how much sweeter the win is. She is extremely loyal, whether it is her family, friends, or staff. She says, "I got their backs. I also love supporting charitable organizations, both professionally and personally, that support social causes."
Connecting Talented Artists to their Audience 
GlossWire is the digital pioneer in consumer global business intelligence, providing beauty brands with essential insights in real time through a pleasant user experience. By combining immersive swipe voting and social integration to rapidly influence the brand, the platform provides a thrilling interactive experience for consumers. Through the platform's market-leading app and web experience, consumers can browse a curated edit of 10,000+ items from 150+ beauty brands from around the world. It is a fast-growing two-sided discovery and shopping platform that provides valuable insights into consumer shopping behaviour patterns to its portfolio of companies. Wire Holdings, Inc. owns the company, which is well-known for its popular FashWire modern fashion app and web-based platform. It is supported by well-known all-star private angel investors from the beauty, fashion, and IT spaces.
FashWire's high-growth platform, a two-sided marketplace, is transforming the way emerging and established designers communicate with customers by employing technology to present consumers with the ability to discover brands and trends while providing critical real-time data and consumer input. The companies then receive this immediate feedback, allowing them to make more informed manufacturing decisions that increase conversion, repeat sales, and profitability. User engagement is a major difference, and combining it with deep analytics and hyper-curated content makes FashWire a highly sought-after solution for both growing and established businesses.
"Through our technology, we are redefining the way fashion designers and brands interact with their consumers, "says Kimberly. The team is making a significant impact for the brand partners in a challenging supply chain environment, allowing especially smaller brands to not just survive but be successful.
Small and established companies may use FashWire and its integrated social media capabilities to stay relevant through real-time digital interaction while inventory is being replenished. Additionally, the businesses become more discoverable to a broader audience, allowing them to make cash more readily. This interactive digital link between the brand and the customer assists its partner beauty companies in developing more relevant and sustainable goods that people want to buy, resulting in loyalty and bottom-line development.
In addition to FashWire's consumer intelligence technology, it provides a platform for businesses to express their message globally: The FashWire platform helps its partnered brands by providing a number of consumer education possibilities. Kimberly shares, "Our exclusive interviews and our Instagram LIVE discussions introduce these brands to our global communities. We simultaneously feature their product in constant rotating editorial. This all-encompassing storytelling brand deep dive, in conjunction with support on our social channels, is a differentiating element from any other fashion platform. Lastly, we also donate $1 per download of our mobile apps monthly to charitable organizations to support social causes, which also brings new consumers to the brands."
Following Her Passion for Tech and Fashion
Kimberly previously worked as a marketing leader on the tech side for AT&T Wireless before moving to dotcom as a marketing executive in music tech. With a solid marketing experience and a passion for fashion, she chose to create a multi-brand apparel store. After several years of running a successful business, she viewed digital adoption as playing a significant role in moving purchasing decisions ahead and realized that retail would not survive unless it adapted to technology. Connecting the two worlds was the catalyst for the Fashwire platform, thanks to her combined enthusiasm for IT and fashion.
Kimberly quickly realized that she needed to modify her perspective on failures and problems. She used to take things personally, but now she sees setbacks as chances for development.
Kimberly was not taken seriously early on as a female entrepreneur on a quest to adapt fashion to technology. The bigger brand affiliates advised her she'd never be able to persuade the fashion brands to join the platform. That was enough of a challenge for Kimberly to prove them incorrect. She took the crew to the fashion trade shows, where they roamed the show floor from one company to the next. She says, "We now have 400 brands from 40+ countries. I believe connecting with the brands face-to-face at trade shows was far more meaningful and authentic for the brands. When the pandemic hit, they knew us as a platform they could rely on and the brands that said no previously joined the platform when retail shut down." She further adds, "Other similar setbacks were finding the right development partner, raising money, and the pandemic. All of the setbacks were really the catalysts that led me to greater personal and business growth. Learning that it is okay to pivot when you hit a roadblock actually gave me greater resilience and drive to grow my company."
Influencing Change
Kimberly wholeheartedly believes in women supporting women. She has an incredible female-dominated team, and she loves empowering and mentoring them to reach their goals and highest potential in the company. She believes, "I influence change daily as a leader through leveraging my strong network of female and male leaders to support my team, our brands, and through mentorship. Our global platforms also empower emerging brands through our pitch competitions and mentorships secured by industry leaders."
Kimberly's advice for emerging leaders is to "Put together an Advisory Board and a team who are smarter in the areas you are not. Surrounding myself with a powerful advisory board and a team in their given career paths, has greatly contributed to our success."
Lead with a Passionate and Devoted Team
At FashWire, the team manages business development, social media strategy, influencer relationships, supporting charitable issues that can promote customer awareness, being philanthropic, excellent client relationships, and strategic collaborations.
Kimberly also emphasizes the importance of having a staff that is motivated and passionate about generating excellent outcomes for the company and that works well together. She claims that it all begins with business culture and that if you have a working environment (in our instance, remote) where your team feels supported by leadership, your team will not only meet, but surpass its goals. She says, "I fortunately have that team, and being collaborative as well as supporting each other is what drives our continued success." Kimberly won the International Trade Council's Go Global Award for Women in Business.
Staying True to Purpose
FashWire's GlossWire network, which already offers over 175 beauty brands across all categories, entered into the multibillion-dollar beauty market in February 2021. Kimberly stated that they aspire to be the go-to platform in the fashion and beauty sectors for an engaged, sustainable, and inclusive shopping experience between designers and customers. She says, "We have numerous innovations on our roadmap to take this experience and impact even further as we revolutionize 'engaged shopping'." The team is continuously acquiring new brands on both the FashWire and GlossWire platforms. And, it is localizing the platform's apps to support different languages, further increasing its global reach. Kimberly says, "Our success will be driven by staying true to our purpose and mission as we continue to leverage technology for even stronger brand-consumer connectivity. Additionally, we are currently onboarding home and décor brands for our new app, CasaWire, to bring furniture brands to shoppers with the same compelling experience. CasaWire will go live in the summer of 2022.
Website: https://www.fashwire.com/