PAOLA FEDERICO: DRIVEN BY COMMITMENT, PASSION, AND CREATIVITY
The 10 Most Inspiring Women Leaders To Watch In 2023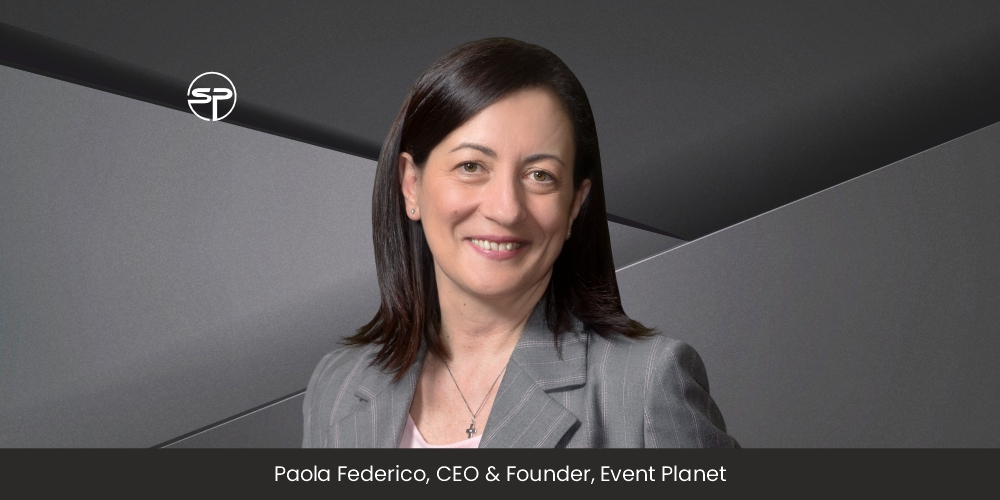 Paola Federico is the CEO and founder of Event Planet, a company that specializes in organizing events and managing event-related projects. As the CEO, she is the captain of her own ship and responsible for making important decisions and leading the company to success. 14 years ago, Paola set sail on an entrepreneurial journey, starting from scratch. Her company specializes in international conference, medical congress design and management, scientific communication, EU project consulting, corporate meetings, team building, and incentive travel.
Paola's passion for the events industry began at a young age and has been a constant in her life. Her experience and knowledge have made her an invaluable asset to Event Planet and her team, who trust her guidance and follow her lead with pride. Together, they continue to bring innovation and excellence to every event they plan and execute.
Paola is driven by a deep sense of purpose: to be the support system for her clients, to understand their needs, and to guide them through the event-planning process, from ideation to execution. She leads by example, inspiring her team of experts to work with dedication, commitment, and mutual trust. With each team member possessing a unique set of skills and a wealth of experience in the event industry, they come together to form a powerhouse of creativity and expertise.
Flexible with Change
Growing up on the island of Capri, where Event Planet's headquarters are located, has greatly influenced Paola's character. Surrounded by stunning natural landscapes, rich history, art, and architecture, Capri is a renowned international destination. Paola's exposure to diverse cultures from a young age fueled her love for travel, and she incorporates her experiences from her travels into her professional and personal life. She considers herself a global citizen with a strong Italian identity.
Paola endeavors to infuse her sense of beauty, characterized by harmony, detail-orientation, and the pursuit of excellence, into all her activities and impart it to her team. As a manager, she feels a great responsibility to rasterized by harmony, detail-orientation, and the pursuit of excellence, into all her activities and impart it to her team. As a manager, she feels a great responsibility to motivate herself and others. She believes in continuously evolving and challenging herself.
In Paola's view, an effective manager is someone who is dedicated to continuous learning and is adaptable to the constantly changing market. They have the ability to reinvent themselves and possess a variety of soft skills that they can apply as needed, such as different leadership styles. A leader must be flexible in their approach and be able to switch between a directive style and a collaborative style based on the situation. This requires self-awareness and the ability to reflect and set personal goals for growth and development.
Way of Leading
"The factory cannot look only at the profit index. It must distribute wealth, culture, services, democracy. I think factory for man, not man for factory. "Adriano Olivetti
Paola is inspired by this phrase by Adriano Olivetti, who together with Brunello Cucinelli, are two business models that she refers to in her own small way. She states, "Ours is a small business compared to the big giants mentioned above, plus we deal with services and not products, which are complex and hard to get off the ground and establish, a service cannot be tried before it is purchased."
Paola has always treated her colleagues with the respect and dignity she expects in the workplace. This principle has been a core value of Event Planet Ltd. since its founding in 2009, even during the economic crisis. Paola has a strong sense of responsibility, which she inherited from her father, and places great importance on qualities such as fairness, transparency, reliability, and reputation. She believes that professionalism is not solely defined by one's skills, but also by traits such as efficiency, competence, and ethics. In addition to performing their job to the best of their abilities, she believes it is crucial for her colleagues to be respectful and considerate of others.
Adhering to Olivetti's management philosophy, Paola places emphasis on team motivation, selecting personnel based on their potential and abilities, and promoting talent within the company. These are crucial characteristics, especially for a small company like Event Planet Group Ltd. Paola asserts, "Our organization is marked by flexibility and informal interpersonal relationships, the dividing line between entrepreneur and team is nonexistent, which makes it easier to involve all staff in company issues and decisions to nurture their sense of belonging."
Gaining Strength from Experiences
Paola believes in leading by example and inspiring her team with her work ethic and personal values. She aims to transfer these values to her team members. She says, "There have been many women I have met on my path who have given me a lot, but basically three have inspired me: my mother, one of my university teachers, and one of my clients, whom I now have the privilege of calling friend."
Paola's mother, who faced numerous physical challenges throughout her life, was a source of strength for her. As a child, Paola felt it was her responsibility to be strong for her mother. Over time, she realized that her mother was an incredibly resilient woman, facing her challenges with courage and determination. This experience taught Paola the true meaning of strength and inspired her to embody this same spirit. "In spite of everything, she managed to build a family, to support my father and face his death with an only teenage daughter, me, and to establish herself at work," says Paola.
During her college years, Paola studied Modern Foreign Languages and Literature with a focus on history and the visual arts. She had the opportunity to learn from renowned experts in the fields of visual communication, theater history, film history, and art history, including her dissertation professor, a remarkable woman who instilled in her a deep love of contemporary art.
Paola has had the privilege of meeting and working with extraordinary artists, and she is particularly knowledgeable about the works of Levi, De Chirico, Savinio, and Novelli. Her college professor, with her dedication to her students and her work as an art historian, was a role model for many, and she helped instill in Paola a love of beauty, art, and the unique, as well as a great deal of self-confidence.
The final woman Paola refers to, without naming her, is one of her clients. Paola has always been in awe of her dedication to work, her selflessness towards coworkers and external partners, her cheerfulness, exuberance, and innate femininity and elegance.
Paola asserts, "What these three women I recognize as women who have marked my path have in common can be summed up in a few key words: self-realized women, attention to detail, aesthetic taste, selflessness, and compassion-all qualities that I have sought and try every day to pursue in life and work as well."
Insights on Dynamic Leadership
Paola is guided by the quote from Lao Tzu, "To lead people, walk beside them." She embodies this philosophy in her leadership style, which is focused on guiding and supporting her team rather than being in the spotlight. To make her attitude and managerial attitude fully understood, Paola always likes to use an example borrowed from another great passion of mine, cinema: If in another life she had been in the film business, she would have liked to be a director and not a movie star.
Paola enjoys being behind the scenes and enhancing the team that works operationally on individual activities.
The main lesson that has accelerated the dynamism of Paola's leadership is the Covid-19 pandemic. She asserts, "2020 was supposed to be a boom year for our company, over 20 international activities that would have involved thousands of attendees stranded because of the pandemic." She further adds, "Initially it was very difficult to figure out how to proceed, indeterminacy and fear characterizing all global production activities, But after the first two months of total uncertainty, we have, in the process, accelerated on the potential of the Web and converted most of the activities into online activities."
One of the characteristics of a dynamic leader, in Paola's opinion, is to be able to deal with sudden challenges that arise while maintaining a positive attitude toward both oneself and the team.
"Vision, empathy, decisiveness, and optimism are some of the characteristics that I believe a dynamic leader must have and that I hope to have," says Paola.
Following Market Trends
Since the founding of the company, Paola and her team at Event Planet Srl aim to provide a comprehensive solution to their clients in the MICE, Scientific Communication, and Strategic Consulting industries. They believe in keeping up with the latest market trends and changes and continuously evolving their strategies to provide the best support to their clients. Their goal is to become a trusted and reliable partner for companies looking for solutions in these fields. Event Planet Group has several divisions:
DMC – for those who want to organize meetings, conferences, and corporate events in Italy.
PCO – for those who want to rely on the company to organize meetings, conferences, and corporate events internationally.
Scientific Communication
Strategic Consulting to Companies in Pharma Also, a new division with a focus on corporate training is being created, and in 2023, Event Planet Srl will offer a package of online and in-person coaching courses by organizing "road-tour-courses" internationally.
Balance between Personal and Professional Sphere
According to Paola, the ability to make the professional and private spheres coexist peacefully is not always an easy thing. The responsibilities and sense of duty to clients, but also and especially to the team, are constantly present, and furthermore, technological development has made the boundary between private life and the professional sphere increasingly blurred, both in terms of the timing and physical spaces of work. But, as in all things, there are also strategies and tricks for maintaining a healthy work-life balance:
Carve out more time for social relationships with proper planning
Learning to say a few NO's so as not to be overwhelmed by work
Create clear boundaries: for example, avoiding answering a business call at the dinner table or during family time or days off
Use the time off to regain energy for a new busy week.
Post Pandemic Changes in Event Industry
Hybrid is the trend of the times! But it is not the one and only trend. Paola considers that the post-pandemic, climate problems, and the war today in the center of Europe have brought people into a new era. She states, "The new normal, if we want to call it that, has brought and/or accelerated many changes in our industry as well."
People want to get back to meeting each other, live events have a function not only of education and information but also of exchanging views, socializing, and human contact—all things that cannot be had through the use of new technologies. An in-person meeting has a whole other effect than a remote meeting, it leaves an impression.
But there will be more careful and researched participation, the choice of the conference, event, meeting to attend in person will be more thoughtful, if before a professional was willing to attend even countless meetings within a year now, he/she chooses those of greatest value for his/her professional and personal growth, there is a conscious and thoughtful choice.
Top four trends in the event industry:
Hybrid events continue, and virtual events become more frequent.
Focus on health and safety
Increased demand for eco-friendly, sustainable events.
Strategic communication and digital transformation
Paola considers that establishing Event Planet Srl internationally by starting from scratch in 2009 while maintaining consistent quality and reliability while always trying to safeguard its reputation. She considers Event Planet Srl's clients partners; their goals are the company's goals, the economic aspect is important but secondary to the end result.
Looking towards Future with Optimism
"The future is uncertain to the extent that pandemics, wars, and climate change have made us realize how fragile we can be and how our daily lives can be turned upside down at any moment," says Paola. She believes that people must always be ready to meet challenges with passion, vision, determination, and optimism.
Paola asserts, "I don't know what the future holds, but as long as we are able to surf through the daily challenges, we will be able to hold firm to our founding principles and maintain and safeguard the respectability of our brand." She believes deeply in others, in teamwork, in common strategy, she respects the opinions of others, she constantly challenges herself to try to improve herself, she tries to earn the respect of her co-workers, and, at the same time, she tries to surround herself with people who have the same outlook on life as she does, which is by no means a given today.
Website: https://www.eventplanetgroup.com/en/