Sophia Bekele: A Renowned Woman Business Executive and Serial Lifestyle Techpreneur changing Lives and Businesses through innovation
The 10 Most Powerful Women Leaders in Business to Follow, 2023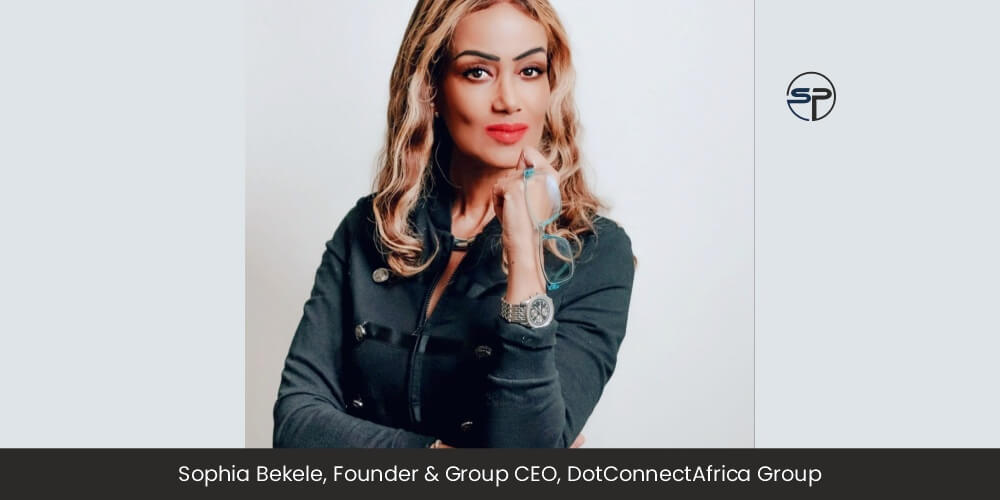 Altering one's mindset and encouraging change through enhancements are key to leading with impact.  In the entrepreneurial sector, learning curves are improved by studying novel concepts to make a difference while experimenting and creating.   To achieve measurable results, it is crucial to stress value, purpose, focus, and agility through this hustle. Successful leaders can influence and create impact.  "They are not afraid to take risks, they embrace failure, and they push until something happens", Sophia says.   Sophia's vision for leadership is to innovate through tech-enabled opportunities and invest in people-centric goods and services that create jobs and opportunities for others while maintaining their corporate social responsibilities (CSR) portfolio, which also focuses on democratizing impact through investing in technology initiatives.  According to Sophia,  technology can't do it alone, "leading with transparency and accountability is key to preventing misunderstandings, fostering trust, and crystalizing expectations in people.
Who is Sophia Bekele
With over a decade of transforming lives and businesses via technology across the Globe and in Africa and leading her organization with passion and grit, Sophia has received many accolades and recognition for her work.  Sophia was dubbed 2022 Influential Women in Africa by Avance Media Africa, 2021 Women of Influence Honoree by Silicon Valley Business Journal, 2022/2021 CEO Today Africa Awards and named Internet Governance Pioneer and Industry Trailblazer by CIO Africa, Top ICT Women in Africa by Bloomberg TV, and Top 50 African Trailblazers by UK's New African Magazine, Solidarity Award of Champion of Development, by AfricaLink, Switzerland, among others.
A business and corporate executive, international entrepreneur, corporate governance and risk management expert, and international policy advisor on technology and development,  Sophia Bekele is the founder and CEO of multiple tech startups.  She is also a thought leader, philanthropist, investor, technology, and industry pioneer.
Born and raised in Addis Ababa, Ethiopia, Sophia traveled to the US to study after high school. Even though she immigrated to the US during a period of political unrest, having grown up in an affluent family, she considers herself fortunate to enroll to study computer science abroad immediately. Her late father, after leaving a senior government position, was a successful serial entrepreneur; his latest venture is as founder and board director of United Bank and United Insurance, S.C., in Ethiopia, presently one of the country's largest banks. Her mother was a professional nurse who is now retired.
Bekele has excelled in roles across the public and private sectors thanks to her education, entrepreneurship, and international experience. She has worked for multinational Fortune 500 companies like Bank of America, UnionBank of California, and PriceWaterhouse Coopers, as well as with transnational business ownership/operation in tech, and built a successful and long career and business leadership history. Bekele has founded and managed numerous international start-ups. As an entrepreneur, she has also launched businesses into new markets in the US and Africa and implemented successful large-scale nation-building networking projects in Africa with institutions like the African Union and the Ethiopian Parliament.  Intel Corp., the Federal Reserve, Genentech, and other Silicon Valley startups were among her US clients.
Sophia has served on various international high-level policy advisory & leadership boards in multiple United Nations bodies and the global internet regulator ICANN where her body of work has influenced the formation of key global and African organizations that made a significant impact on the implementation of important public policies on technology and global internet governance. Sophia has been invited to speak on high-level forums across the globe. She also contributes opinion blogs to organizations relevant to her field.
US Career path that led the way to digital opportunities
At her first job at Bank of America, as a rookie tech auditor, Sophia contributed to the IT Audit industry, which covered corporate governance, policy, and risk management, now commonly identified as cybersecurity.  She continued to work in the profession after that for Fortune 500 companies.  As Sophia's career progressed, she also obtained such globally recognized certifications as CISA, CGEIT, and CCS in the field, issued to professionals proficient and experienced in a digital environment.
Entrepreneurial Ventures (Dare to Dream)

Led by a vision of bridging the digital divide between US and emerging economies, Sophia left the US Corporate world and set up a SF-Bay area-based company, CBSegroup, where she currently has her US base, as a vehicle to start off many of her international projects.  As a Techprenure, She executed several significant projects in the United States and Africa under CBSegroup and set up local companies in Africa to collaborate and implement her projects.
Sophia said, "Currently, what I am excited about and what has kept me busy is our new flagship eCommerce project",   a project she initiated, post the global pandemic while still in the US.  The project aims to assist MSMEs in Africa gain access to global markets and financial inclusion. It is a first-of-its-kind tech-driven pan-African eCommerce marketplace ecosystem. The platform also provides a unique opportunity for women Kiosk-entrepreneurs to sell online, process payments, and manage their finances via its fintech solution while de-risking the entire lending process.  Sophia and her able team in Nairobi have worked hard to integrate various technologies to create the "ecoplatform,"  She states, "Our objectives align with the UN Sustainable Development Goals 1, 8, and 9, which are no poverty; decent work, and economic growth; and industry, innovation, and infrastructure, respectively."
Sophia executes the above under the pan-African DotConnectAfrica (DCA) Group she formed, a tech start-up with a base operation in Nairobi and Mauritius.  The group aims to help businesses with their digital transformation. Since its founding, the DCA group has continued to successfully transform Africa into a digital continent by gradually implementing a distinctive integrated model of internet-centered digital products and services that includes web-related services to meet the needs of the commercial sector. The business adopts a purpose-driven strategy to achieve its ultimate goal of sustainability.
Excellence in Business Leadership and Innovation  
Soon after she left her last job at PWC,  she was persuaded by her father to lead a local IT business in her home country, where she saw a chance to crystalize her vision to close the digital divide. Therefore, Sophia started to trailblaze her efforts and revolutionize the local tech sector through what international media such as CNN called "unheard of business models" when she partnered with her competitors.  Sophia also pioneered the DNS business in Ethiopia by introducing domain registration, hosting, and website development services to support the online visibility of businesses and the government.  Even though her idea was novel and not accepted initially, she also introduced the "revenue share model" for partnering with the local Ethiopian telecom when she proposed to market their ".et" domain services, which now became a standard business practice.  She was, however, able to successfully convince the Kenya telecom Safaricom to use the same model for her '.Africa' project.
Sophia successfully pioneered and championed the '.Africa' name to global recognition in a highly acclaimed 6-year "yes2dotAfrica" campaign. It was the first global, "multilingual" social media digital marketing infrastructure engaging online communities. Sophia was also credited for pioneering the Internet governance (IG) public policy debate. She utilized her leadership positions at the International Internet policy platforms she was appointed to address the policy gaps she witnessed between the global communities, including Africa.
Collaborating with Trusted Partners  
Sophia has a wide range of virtual consultants and advisory boards, which one can call "reliable partners".  She can pick their brains and exchange ideas, and their support and efforts are great, particularly when one is building a project or business based on a large ecosystem, which seems to be one that she enjoys doing. She states, "I am very particular, almost to the point of being paranoid, yet strategic with my collaborations. However, I have repeatedly used various strategic partnerships to expand my reach and achieve my business goals by creating "unique business models".  Niche and complimentary partnerships help. "Instead of reinventing the wheel, one can partner with someone who has already perfected their model and collaborate with win-win terms."  Reputed for her out-of-the-box thinking,  Sophia further adds that businesses, particularly when men-driven, think they have to "build all capacities internally", Sophia finds they carry too much weight, which often takes away from the quality of the product and service delivery.
A Perennial Digital Entrepreneur
Sophia has always been a Techpreneur. Her numerous tech start-ups have helped organizations with their "digital transformation," now a trendy term. The new economy is built on data, whereas previously based on ICT (information and communication technologies), which primarily included building networks and infrastructure. As a result, her organization's foundational skillset has always depended on a team with sophisticated digital capabilities. She says, "I would like to see techies develop the core communication and problem-solving abilities that can convert a conventional business model into a cutting-edge digital environment."  Particularly in the wake of a pandemic, these abilities have become even more crucial as firms are compelled to adopt data-driven strategies and solutions to survive.  In this regard, Sophia is proud of pioneering the first "Women-In Tech" (WIT) space in Africa in 2008.  "I envisioned upskilling women through digital skills, including financial inclusion through a Seed-fund program, which is now executed in fifteen countries".  In 2022 DCA Group won the "Best Digital Academy in Africa" from CEO Today.
As a lifestyle Techprenure, and a rebel against the corporate environment, her digital skills has benefited her.  She never needs an office environment to get things done. She asserts, "I have remotely managed teams and done business with people I have never met before right from the pc."  In her upcoming book, she talks about  "The Hollywood Business Model," and has continued using such models to date. Currently, the pandemic has greatly validated Sophia's type of business model.
Turning Over Chapters
As a serial entrepreneur, Sophia has a few start-ups under her belt. Building a business always has ups and downs, and Sophia has won and lost. Despite being one of the few women operating in this industry, she had to overcome her fear of speaking up against gender discrimination and the injustice she experienced. As a result, She has found herself in the unique position of openly opposing unfair policies in governmental institutions and in private sector enterprises.  She is glad to declare, however, that her losses were never in vain because they directly contributed to precedent-setting cases from which vast segments of society have benefited.  Even so, Sophia has learned not to allow herself to be defined by the last setback and to turn the obstacles into an opportunity. She says, "These roadblocks are just speedbumps to salvage and not permanent, and she has come to also understand that it is just as ok to invest money in experiences and not always the outcomes." She adds, "I have also learned that if you have a cause, don't let the so-called experts champion it; you have to get involved."
Inspiring a Fulfilling Life through Action
Sophia uses her social media (SM) channels, "SLANT by Sophia Bekele" and "SLANT by AddisHilton" respectively, to motivate on business and lifestyle.  The moniker AddisHilton was attributed to her decades ago by her colleagues who followed Sophia's chic "jet-set lifestyle", in business, travel, and adventure, as in the famous Paris Hilton. Sophia can be as controversial as she publicly challenges the status quo and irregularities wherever she finds them.  An avid traveler and scuba diver, Sophia has visited 150 countries, with historic exploratory 6-around-the-world trips.  Even so, she had intentionally developed a "work-life balance" lifestyle long-ago to live a life that made her happy; Sophia says, "while I shared my life openly online, it wasn't until after the pandemic that I felt compelled to share my wealth of good fortune and wisdom, as a "conversation that matters," on SLANT.
Predictions on Tech Evolution
In tandem with cybersecurity, Sophia foresaw the cloud as the primary business shift ten years ago. Today, the world is coping with what she refers to as the "evil twin," as one cannot exist without the other.  Sophia asserts, "The cloud will not go away. Web 3.0 technologies, such as blockchain and cryptocurrency, will be the next digital transformation, along with the tokenization of financial assets, to improve efficiency and lower financial transaction risks. Also, eCommerce and Social commerce stand to gain the most from the pandemic, but doing so would require an efficient supply chain for goods, higher servicing costs, more accessibility, and transparency. Sophia also predicts that driverless vehicles, augmented reality, robotics, and quantum computing will lead the next-gen technologies.
Women can Lead Anywhere
"Women don't have a playbook for female leadership, so we need to restructure it", contends Sophia.  She believes that female leaders have followed the male leadership style for success.  Female leadership is similar to how the SHE successfully leads home life.  Women are great at multitasking and problem-solving, have strong communication skills, value work-life balance, are inclusive, encourage free thinking, and manage crises, money, and teamwork. She adds, "Imagine if we establish the same leadership style at work and in the boardroom and show our worth – our value can be appreciated as equal or even preferred partners in the workforce."
Website: www.dotconnectafrica.com