Jason English: A Multi Visionary Entrepreneur who is Building Businesses that Inspire
The Charismatic Entrepreneurs Inspiring the Business World, 2022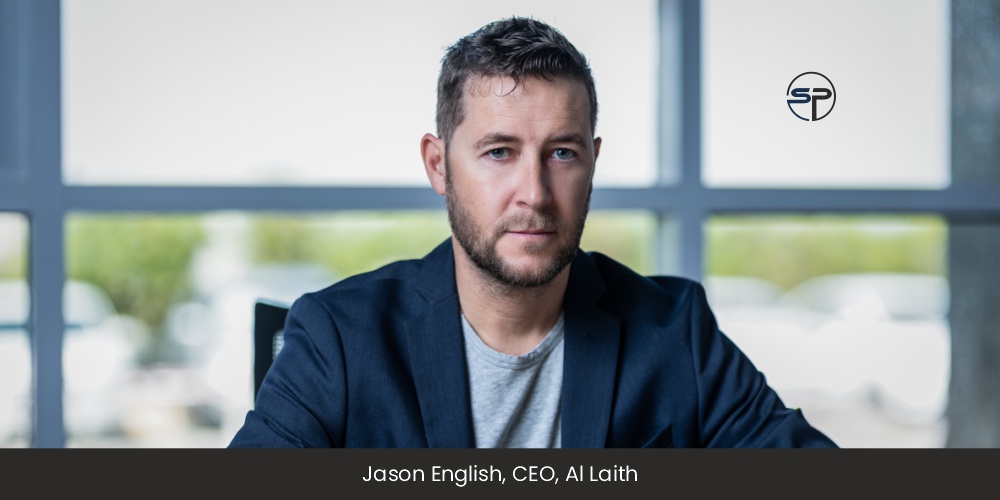 An entrepreneur has to be a strong leader. A person cannot run a successful business without initially developing the abilities required to engage successfully with the people they choose to surround themselves with. Jason English is an entrepreneur, author, speaker, and
co-founder of CG Tech, a business that offers strategic management oversight and innovation to its underlying assets. He is also the company's chief eco-system officer. The CG Tech group of enterprises now employs over 5000 people through its 10 operating companies within the EMEA Super region.
Jason also serves as the CEO of "Al Laith," the group's Middle Eastern business that consists of 5 companies providing engineering, construction of demountable structures, and
equipment rentals to foreign companies and ministries in Saudi Arabia, Oman, and the United Arab Emirates.
Jason is the chairman of the group's London-based tech firm "The Virtulab," which offers a variety of inhouse virtual software solutions (virtuworx, virtuplan, virtuview, virtuservice) as well as data processing techniques including managed drone services, VR, AR, 3D VFX
animation, and software development. IOT deployment solutions, point cloud hosting, Metaverse, and photogrammetry development are also included.
Jason also serves as a director for the group's three South African companies that specialize in industrial services: Prommac, New Age, and Kumunyack. These companies offer project management, mechanical, welding, electrical, and instrumentation solutions to major clients in the mining, petrochemical, energy, and paper sectors, as well as managed UAV (drone) operations.
If that's not enough, Jason also serves as a director of "Serious International" the group's UK- based business that specialises in the engineering and construction of sound stages for the film industry.
Jason is a thought leader in technology and culture who has presented at and attended international seminars in South Africa, Scotland, England, San Francisco, Canada, Singapore, Dubai, Los Angeles, Shanghai, San Diego, and the Middle East.
While employed by the South African Police Services, Jason earned a master's degree in business administration (MBA) after achieving a qualification in mechanical engineering. He formerly held a paramedic license and has studied a variety of short programs with Harvard, Stanford and Singularity University. He is also a licenced commercial drone pilot and helicopter pilot.
Jason is a member of the Young Presidents Organization's (YPO) and serves on multiple Executive Committees within YPO. He was selected in 2017 as one of only 250 world leaders to join Peter Diamandis' mastermind of exponential entrepreneurs. In addition to the YPO Global Entrepreneurship & Innovation Network in Silicon Valley, Jason holds EXCO positions on the YPO Global Deal and Opportunity Network, is a champion for the organisations professional speakers network, and is a strategic game plan coach having run strategic sessions for boards around the world in the Czech Republic, Africa, Malta, Dubai,
Kuwait to name a few. Numerous media outlets, such as Entrepreneur SA, Legacy Project, CNBC, Entrepreneurial Edge, Tech Crunch, Business Times, and Yahoo Finance, have profiled Jason.
Early Journey
Jason started working when he was sixteen. He never stopped working, whether it was selling avocados on the side of the road, serving food at the neighborhood steakhouse, or selling old clothes at the local market. He joined the South African police force and started working as a paramedic in 1996. For Jason, it was a moment when he learned many difficult but important lessons about the influence of his choices, teams, and procedures.
He earned a qualification in mechanical engineering in 1999, and after joining a multinational oil and gas services firm, he advanced from being a junior engineer to a director of global development. He quit the corporate sector in 2012 and started his own entrepreneurial journey.
CG Tech
CG Tech is an investment holding company that provides strategic management oversight and deploys value-adding innovations to its core underlying owner-managed businesses to help serve, solve and uplift.
"Our purpose is to make an extraordinary impact on the lives of people, communities and clients within our ecosystem and our vision is to be the investment partner that helps privately owned traditional businesses grow exponentially."
The company's fundamental strategy is to invest in established businesses that are by their very nature dull and traditional, and then support the executive teams by providing strategic direction and oversight and supporting with cutting-edge innovations. The team at CG Tech has its own software development division made up of highly qualified software engineers
and developers that create software that is prototyped throughout the portfolio to increase the effectiveness and productivity of our services and teams.
According to Jason, many firms lack creativity because they are either overly complex or
extremely thin on the team. The team at CG Tech combines structure and innovation in a way that adds value to a company's creativity, productivity and effectiveness.
Leading with Values and Vision
Jason has two responsibilities at CG Tech. At the CG Tech level, his job is merely to
standardize how the corporation views its ecosystem across all of its group firms, including its employees, customers, suppliers, communities, and rivals.
From a leadership viewpoint, he believes that alignment of an organisation is key through focussing on everything from vision, objectives, yearly strategies, engagements, procedures, and systems. Their group of extremely smart and dedicated CEOs across the portfolio
companies together with his business partners and chairman Niall Carroll are continuously engaging and thinking about the future and how each of the businesses may change over time.
The executive management teams across the companies are aligned and make the greatest use of their people by sharing and relocating resources throughout the group and because the
structures, systems and processes are aligned, it happens very simply and with little disturbance. From the standpoint of Al Laith, Jason's position is chief executive officer. This more active participation was required as a result of COVID.
CG Tech infuses these values into their leadership:
Safety: We focus on our own safety as well as the safety of our colleagues and all those who make use of the firm's services and
People First: We strive to improve the lives of our co-workers, clients, and anyone else involved with our
Agile: We respond quickly and clearly to changing client needs and disruptive
Responsible: We are responsible for our actions and commit to conducting ourselves with an ownership
Life Inside and Outside Workplace
Inside and Outside Jason is a very similar person. He is humble and friendly and manages relationships as best he can. He shares, "I'm open minded and hear all perspectives around topics or ideas before jumping to any conclusions. I recognise that there are several roads that lead us to the same point, and each road has its own benefits and challenges. Navigating the best outcome comes from listening to a variety of views and then making an informed decision." Jason likes to take calculated risks, as can be seen by his passion for speed and fast cars, flying helicopters, and he applies the same to business. He asserts, "If it won't kill us, then it's worth experimenting to see if there is a significant positive outcome. I have and
continue to make many mistakes, both inside and outside the business, but have a mantra that "Sometimes I win, Sometimes I learn, but I never lose". Not learning from a mistake is the only time you will lose in life." He enjoys spending time with family and friends and enjoys a good night out with music.
Appreciation for Being Exceptional
In his personal life, Jason considered flying in a military fighter jet to be a memorable
experience and becoming a helicopter pilot to be a significant personal accomplishment. He is constantly proud of his accomplishments in raising his three wonderful children.
Jason believes that he has always valued watching others succeed in his professional life. He once hired a general laborer and developed him into a senior project manager. He also hired a clerk and helped her advance her career to the point where she could buy a vehicle and a house.
Out of more than 2,000 service providers, Prommac received service provider of the year in 2017. He recalls that as a significant event in his life that virtually justified his severe dedication to them as a client. Also, seeing how the group has grown from a garage with 3 people in 2012, when Prommac started, to a team peaking at over 5,000 across three
continents, is also something that he looks back on and feels proud to be part of. He recalls two of his most proud and emotional moments: when CG Tech sponsored the South African
robotics team at the World Robotic Championships and when they funded an anti rhino poaching campaign.
He asserts, "Walking out on stage to collect a gold medal at the World Robotics
championships in front of 192 countries in a packed 20,000-seater stadium with the team is a moment I will never forget." He also adds, "Watching the transformation of a group of young kids and how they inspired those around them thanks to the support we gave them was overwhelming. It was also a moment that truly helped me understand the power of impact investing."
"The second most memorable experience was taking our entire Exco consisting of 30
executives to participate in an anti-rhino poaching effort in South Africa. Darting, DNA
sampling, chipping and being part of something like that was an emotional yet awe inspiring moment that brought many to tears. Being up close and personal with these giants is hard to comprehend."
Word from a Leader to Future Leaders
"Authentic leadership wins every time as people follow leaders they align to," says Jason. He counsels aspiring leaders to be themselves and not to attempt to be someone they are not. He explains that one of the mistakes he frequently observes in leaders is that they try to modify their style to fit everyone else around them, but when pressure mounts, the cracks appear and the leaders turn into their true selves, causing a flurry of panic in their teams who may have never seen that side of the leader. He continues by saying that by being yourself, you will
attract the kind of people that supports your leadership style and your desired course of action.
According to Jason, there are merely many leadership styles; there is no right or incorrect leadership. He believes the reality is that there are times when autocratic, whip-style leadership is required, and there are times when a gentle, massaged leadership style is required. As an employee, his advice is to look beyond a financial benefit and look towards your own happiness and fulfilment. He elucidates, "I am yet to meet an employee that hates their boss or is misaligned totally with the company values and direction, yet is fulfilled and happy because they get paid well."
Questions that Hold the Future
Jason and his colleagues at CG Tech are always pursuing a changing objective. The direction is X now, and Y tomorrow. While being able to shift swiftly has advantages and disadvantages, changing directions calls for planning and a methodical approach to prevent misalignment from happening.
He consistently considers the following fundamental topics in relation to all of his businesses:
How do we improve the utilisation and management of our large asset base?
How do we enhance the skills and knowledge of our teams whilst scaling?
How do we ensure succession planning?
How do we support communities in a sustainable and value-adding way?
How do we deploy technology or innovation without breaking systems that fundamentally still work but won't in a few years?
How do we sort and manage the vast quantities of data and documents across the group?
How do we improve the lives of our employees and clients?
How do we improve collaboration, learning and knowledge sharing across the different entities?
How do we optimise across a complex supply chain?
Personally, Jason asks himself one question as an individual when it comes to his future:
"How do I become a better father to my 3 children and a better husband to my supportive and loving wife?" He finds that whilst these questions are generic and common, they apply to all operations and personal life and often lead to solutions that have a multiplicative effect.
As for CG Tech's future, looking after the company's existing blue-chip client base is critical, but moving with trends, researching and understanding the newest sectors, technology, and
spaces are also important. He adds, "Those we feel we can add value to, we will probably end up in at some point."
Website: www.allaith.com