SUSAN C. BOBB: Aligning Human Resource Strategies with the Overall Goals and Objectives of the Organization
Top 10 Most Influential HR Executives in Business, 2023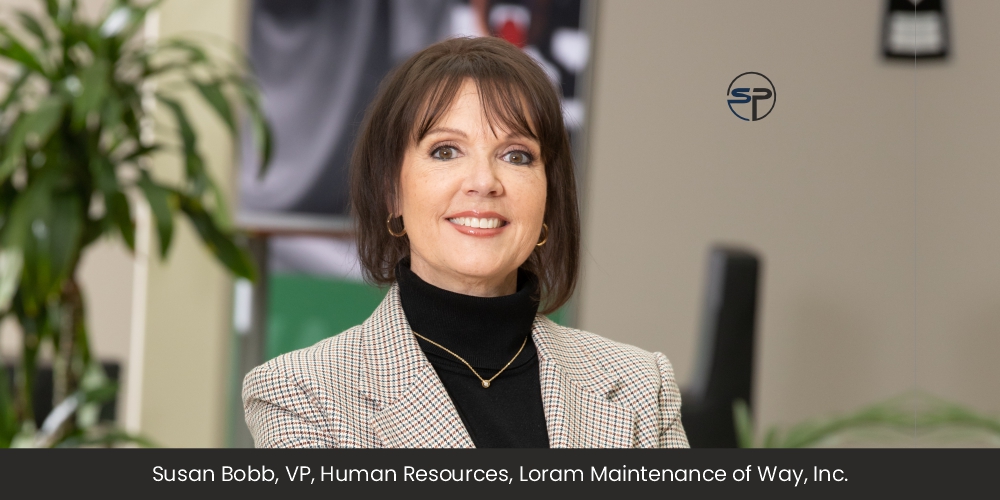 In the manufacturing industry, HR leadership entails directing the development and implementation of human resource plans that are consistent with the organization's unifying goals and objectives. This includes responsibilities such as attracting, retaining, and developing top talent, managing employee relations and engagement, designing, and delivering training and development programs, and ensuring compliance with labor laws and regulations. Effective HR leaders in the manufacturing sector must have strong communication, interpersonal, and problem-solving skills, as well as a deep understanding of the industry and the unique challenges and opportunities it presents. 
Susan C. Bobb is a seasoned VP of Human Resources with a proven record of driving business outcomes in the railroad and railway maintenance and manufacturing industries. She possesses expertise in performance improvement, organizational change, operations management, talent acquisition, total compensation and benefits, employee relations, HR policies and practices, corporate charitable giving strategies, and performance management. 
Stepping in HR Sector  
Susan's career began in IT, not HR. She was recruited to work at Canadian Pacific Railway in Calgary, Alberta as a system manager for fault-tolerant systems and an EDI application developer for the Class 1 railway. Thanks to a series of supportive leaders, she took on increasing responsibilities and moved through various roles, managing application developers, overseeing large IT programs, and implementing an iterative approach to IT project management. She later joined Dell Computers in Austin, Texas, before returning to her passion in the rail industry and rejoining CP. 
There was a crossroads where Susan had to decide whether to stay in IT, where she was comfortable and enjoyed managing cool projects or move to Operations to manage or lead different types of projects with the hardworking leaders and employees. She recalls, "Would they accept me, would I be able to make a difference?" All these questions played over and over in her head. 
Susan's approach to new situations has always been to fully immerse herself and build strong relationships. Many of these early relationships have endured, and she remains grateful for them. She led a team of skilled business analysts in launching a management operating system to support front-line managers across North America. This was a particularly enjoyable period in her career, as she was able to connect, listen, and collaborate with teams across the network. She states, "We didn't take the credit for their change, we stood behind them and supported them in the tough role of holding others accountable through proven leadership skills, capturing variances, and helping the leaders support employees in having a great day." 
Susan's transition to Human Resources was a significant departure from her background in IT. Nevertheless, she quickly adapted by becoming knowledgeable about policies and regulations. She discovered that her prior experience in serving client groups was a major asset in HR, as it was all about helping employees with their problems, development, recognition, and rewards. Eventually, Susan returned to Canada and continued her HR career in Eastern Canada. 
Susan strongly believes "It is what you make of it, and if most employees come to work wanting to have a great day, there is so much opportunity to do great things.  People in HR departments are unique, they do not shy away from complex issues but find ways to resolve them using their toolkits of experience, tenacity, sound policy, regulations, empathy and all bound by doing the right thing." 
When the opportunity arose to join Loram Maintenance of Way, Inc. in Hamel, Minnesota, as VP of HR, LR, and Facilities, Susan made a quick decision. She had missed the U.S. and saw this as a chance to lead in a new area of the rail industry. Given her rail operations background, she assumed leadership for the Environmental, Health and Safety group setting process and oversight for Loram.  Within a short time, Susan's role grew to have global accountability for Human Resources and Safety. She also achieved a major personal goal in November 2022 by becoming a U.S. citizen. 
Loram Maintenance of Way, Inc. 
Loram Maintenance of Way, Inc., since 1954, has provided the most advanced, most productive, and most innovative railroad maintenance services and equipment with exceptionally high standards of quality and performance. Its Loram Technologies division leads the digital transformation of railway maintenance with a portfolio of state-of-the-art inspection technologies, geotechnical services, and friction management solutions. Its core services include rail grinding, ballast maintenance, material handling, equipment manufacturing, inspection services, ballast technologies, geotechnical services, friction management, and structural monitoring.  All this work is necessary to ensure the safe transportation of people and products across the railroad. Prevention in the form of these giant machines and technologies saves railroads costs in downtime for repairs, accidents to products, and worse, people. 
The work that is done at Loram, globally, is nothing short of amazing and worthy of an incredible amount of pride in the work employees perform day in and day out. From its teams manufacturing equipment from the ground up to its teams operating these awesome machines across all railroads, safety is paramount, and no task is so urgent that it warrants taking shortcuts in safety as the consequence could be catastrophic. Susan asserts, "Our field employees have tough schedules, weather conditions, and they make significant personal sacrifices by being away from loved ones for extended periods of time." 
When Susan joined Loram, the company was on the brink of major change, with rapid growth both in North America and globally, taking it from 500 to over 1500 employees today across the U.S. and Canada, Australia, Brazil, Finland, India, and the United Kingdom. Susan's role, at least initially, was to lead the HR, LR, and Facilities teams, and with her prior railroad experience, assuming leadership for the company's safety practices, programs, and field specialists at Loram was a natural fit. This role has provided Susan with exciting challenges in bringing all the company's global employees together through prescriptive change management of philosophy, policy, people development planning, cultural understanding, and engagement. 
Purpose Aligned Leadership  
Loram values its diverse workforce, with employees from five generations, bringing diverse ideas, experiences, and communication styles. Despite the differences, all employees desire respect, trust, honest communication, and a sense of being valued and supported. Susan believes that as a leader, one must be skilled in bringing these diverse employees together and facilitating the sharing of ideas while recognizing their contributions. By coaching and recognizing the ICARE values, leaders can find common ground among all employees. She says, "Effective leadership requires active listening, observation, giving and receiving feedback, setting expectations, providing opportunities for growth, and using balanced consequences to reinforce desired behaviors." She also considers that leaders must also model these behaviors themselves and continually work on their leadership skills by spending time with teams, observing, asking questions, and encouraging others to share their experiences. These practices can help HR leaders create a shared vision and purpose that aligns with the company's vision and mission, leading to great performance results. 
ICARE Values  
"Integrity First, Customer Focus, Accountable for Actions, Results Oriented, Excellence in All We Do." 
At Loram, Susan focuses on vision, mission, and values, which, along with safe practices, form the foundation of all the company does. Its executives annually develop multi-year plans through a strategic planning process to align with the vision and mission, and all projects and initiatives are chosen based on their alignment. Susan and her team drive accountability throughout the organization by setting goals, connecting individual goals to the vision/mission, and guiding employee behavior through the company's values. The ICARE values serve as a guide for conducting business, performing duties, and interacting with colleagues and customers. All employees are assessed mid-year and annually on both goals and behaviors to ensure alignment with the vision and mission. Employees can also recognize their colleagues for aligning with the ICARE values by providing an ICARE badge. Six individuals from the global recognition recipients are chosen annually to receive a prestigious award for embodying the ICARE values. This continues to be an integral part of the Loram culture. 
Adding New Talent  
Susan says that one of the biggest considerations when promoting or hiring a new employee is the fit within the team they are on and the culture of the organization. She further shares that this is not determined by the manager alone, who is promoting or hiring the individual; rather, the manager should consider the feedback from the team in which the promoted employee will lead or the team in which the new employee will work. 
Some of the most important traits Susan looks for in a new employee are how they present themselves in terms of open and honest communication (as measured against our ICARE values) and whether they have the ability to fit in culturally. With Loram's tremendous growth, Susan also looks for new employees who can take the company into the future, are they open minded, are they confident in their abilities today, and are they excited about learning and trying new things? Emotional intelligence is woven into the traits mentioned, and someone who has honed these skills can adapt themselves and help others adapt to change. She asserts, "Our successful growth story at Loram is supported by employees who are excited about the future and what they can contribute to that success and who are encouraged to innovate through new ideas and collaboration."  As leaders, Susan and her team play a major role in supporting new employees as they transition to a new organization, new people, processes, and demands. 
Challenges of an HR Leaders  
As a leader, especially in HR, you often face tough decisions that may not be universally accepted by your employees. Apart from considering legal aspects, you must ensure that your decision supports the employees, is equitable, and most importantly, is the ethical thing to do. 
Susan acknowledges that one of the most difficult decisions she makes as a leader is handling the performance issues of a direct report especially in which you've built a long relationship. Initially, she may be tempted to assume that the employee is not motivated, but she instead takes the time to evaluate her own role in the situation before making a decision.  She shares, "Have I provided pinpointed expectations to the individual, and did I follow up with them?  We often think we provided clear direction but when we look back we may see that it was a suggestion, or a passing comment we made or an email I thought I sent but maybe didn't."  Susan believes that if the expectations are clear, she has a responsibility to communicate them to the individual. She then assesses the employee's skills and experience to determine if the expectations are realistic and achievable and provides training or practice opportunities if necessary. 
Susan openly discusses the performance issue with the employee, listens to their perspective, and considers factors such as health, family, or work issues that may be impacting their performance. She uses her leadership skills to provide the necessary resources and support to resolve the issue, whether it's through offering medical resources, facilitating the resolution of team conflicts, or determining if the role is a good fit for the employee. Ultimately, as a leader, Susan uses her toolkit to address performance issues in a fair and effective manner. She states, "Termination isn't always the result or desired result, and understanding performance issues can be a huge win for the employee and the company if a change in role, as example, provides the change needed to turn performance around."  She further adds that managing performance is stressful for both the leader and the employee being managed, and the future employment and potential livelihood of the individual hang in the balance. Susan finds that following the steps above, starting with an assessment of herself as the leader in the scenario, is of the utmost importance to setting the right plans forward. 
"As leaders, we have the best of intentions, but we are humans, and we make mistakes.  A true sign of a leader is to acknowledge mistakes, learn from them, and do better, even if that means acknowledging one's mistakes," Susan says. 
Facing Pandemic 
According to Susan, the global pandemic has been the biggest career challenge for all HR leaders, including the most seasoned ones. There was no prior preparation or established protocol to follow, making it difficult to keep up with frequent changes in guidance from the federal, state, and CDC. Despite these challenges, the primary goal has always been to protect Loram's employees and maintain compliance with the rapidly changing guidelines. 
During the height of the pandemic, employees who could perform their roles remotely did so for their safety. When it became possible to implement sufficient safety protocols, Susan and her team gradually brought these employees back to the office. The pandemic has had a lasting impact on employee preferences for work environments and work-life balance. However, it was determined that offering permanent work-from-home options was not in line with Loram's culture and work needs and would not provide the level of support required for both employees and the company. Susan states, "We needed to acknowledge how many employees and potential employees wanted some flexibility, so we implemented a Flex Work policy that allows an eligible employee a bank of days to use throughout the year, to work remotely." 
According to Susan, field, and manufacturing employees at Loram did not have the option of working from home. To protect these employees, Loram isolated work units and established a 24/7 health line for employees to seek guidance on symptoms, testing, and returning to work. Loram also hired registered nurses in its Minnesota and Texas offices to assist employees. The company and its teams globally made extensive efforts to protect employees and support them both at work and in their personal lives during the pandemic. 
Message for Emerging Leaders 
Susan believes that leaders should focus on identifying and honing the competencies and traits that lead to the best outcome for employees and the company, rather than just fixing what is lacking in current leaders. Essential qualities for all leaders, regardless of background or generation, include the ability to give and receive feedback, active listening, problem-solving, teaching, empathy, a vision, and promoting team engagement. Leaders are also accountable for their actions. She states that new generations bring fresh perspectives, but it takes effective communication and feedback to foster relationships. In today's challenging times, leaders must be attentive to their employees' well-being, both at work and at home, and be ready to offer support through empathy and open communication. 
Visit: www.loram.com